In Reunited with her Surgeon Prince by Marion Lennox, Crown Prince Marc Falken finds his life changing after the royal family are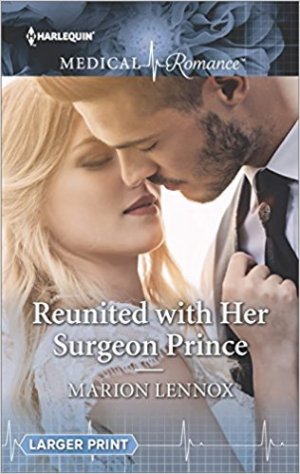 killed in an accident. Seeing as he'll soon be king, he knows he must confront the past and claim his heir. However, confronting his ex-wife isn't going to be easy, especially since they haven't seen each other in years. Will Marc be able to convince Ellie that they deserve a second chance at forever love, or will Ellie walk away because she doesn't believe she can have the best of both worlds – keeping her career as a doctor and being the queen he needs?
"Ellie, it was unfair of me to ask. But we have tonight. It ended at midnight for the Prince too, remember?"
"Cinderella, huh?"
"I'm thinking they were both blasted out of their worlds. In fairy tales they get to fudge the ending – happy ever after. But in real life…"
"In real life the Prince has to get up the morning after, put on a suit and tie and discuss the state of the country's…I don't know…sewer system."
His lips twitched. "We do have to discuss that."
A story involving a prince and second chances is always a book I'd be interested in reading, and Ms. Lennox captured my undivided attention the moment I started reading this book because of how the hero's world has changed from being a successful surgeon to being in charge of his country. Will he be able to handle the pressures of his new life? However, it was from the moment the hero and heroine come face-to-face for the first time that had me loving this story, as the hero gets a shock when it comes to the decision he realized the heroine made in the past and it's palpable these two still love each other, even though it has been years since they've seen each other.
As for the dialogue, it was intense due to the medical emergencies these two handle, the main characters back stories, their history and their growing relationship that makes the heroine wary of giving the hero another chance, because she was so hurt when they went their separate ways years ago. Even though, their separation was due to terrible circumstances that forced the hero to go back to his country and the heroine to stay and care for someone she loved. Will love conquer all? Moreover, both the main characters entertained me from start to finish, as the heroine does her best to resist the hero, even though it seems impossible.
The heroine is strong, brave and I liked that she was willing to meet the hero halfway when it came to their son and was willing to support the hero because of how Marc's life was changing in a massive way. I also liked how the heroine did her best to protect herself when it came to her growing relationship with the hero, because she believed there was no way she could remain by his side and not lose herself. She's a talented doctor that would do anything to help people, which is proven by how she does everything she can during the medical emergencies she handles.
"So much for our peaceful stroll. What do you think a chopper could do if I attacked you with the secret knife inside my left shoe? Drop a bomb?"
"They're not worried about you."
"Then what are they worried about?"
"The royal family's made themselves amazingly unpopular."
"But you're going to fix that, right?" she said, and she suddenly tucked her arm into his. It was a gesture of friendship, nothing more, he told himself, but it felt great.
While the hero, he's a talented surgeon that would love to continue what he's done in medicine, but it doesn't seem possible when he's about to be crowned King of his country. Will he give up medicine all together or find a way to still help people? He's also confident and I liked how determined he was to win the heroine's heart, because he still loves her and wants her and his son in his life. Will he get his wish? Will Marc be able to make the heroine realize that they belong together? I also liked the decisions he made when it came to his life and that he was willing to stand up to those that believed he was shirking his duty as King because his son and his ex-wife were more important than running the country and he would not let Ellie down a second time.
Overall, Ms. Lennox has penned a really good read in this book where the chemistry was wonderful between this couple and the ending of this story had me worried for one of the characters. Would they be all right? However, in saying that, I loved how things worked out for Ellie and Marc, as they realized a second chance at love was worth fighting for. However, it was right at the end that left me smiling, as Ellie provides plenty of love and support for Marc to be able to run the country without him getting too overwhelmed and feeling pressured by everything he has to do as King. I would recommend Reunited with her Surgeon Prince by Marion Lennox, if you enjoy second chance romances or books by authors Lucy Clark, Sue Mackay, Alison Roberts and Annie O'Neil.
Book Info:

Publication: September 19th, 2017 | Harlequin Medical |
Claiming his secret heir—and his bride!
Dr. Ellie Carson once married her secret prince, but then duty tore their whirlwind marriage apart—only, Ellie was also pregnant!
Now surgeon and crown prince Marc Falken is soon to become king—and he's discovered he has a son! Claiming his heir means seeking out Ellie—the woman he's never stopped loving. But can Marc convince Ellie that she can be a doctor and his queen, and that finally they can become the family they were always meant to be?