In Reunited with his Runaway Doc (The Lewis Doctors #1)by Lucy Clark , Dr. Maybelle Freebourne is free to live her life the way she wants to live it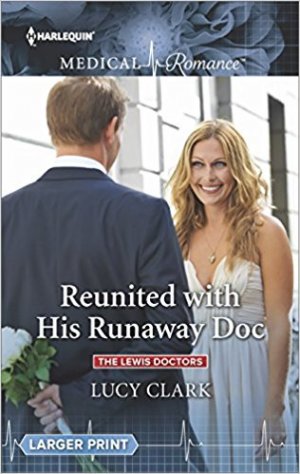 now that the threat to her and her family is no more. However, after years of living as part of the witness protection program, she finds it hard to trust. Will her chance to finally do whatever she wants with her life give her another shot at happy ever after with the guy she left behind years ago, or will her trust issues get in the way of their second chance?
"You're far more messed up in the head than I thought." He brushed a kiss across her lips. "But I love you, Maybelle. I don't think I've ever stopped loving you and I don't think I ever will. It's forever, this love. Forever. I offer it to you, with all my heart and with no conditions. My love is yours unconditionally."
This was a very interesting and captivating story, as Maybelle whose name was different when she knew Arthur in the past, finds it hard to trust and yet, the hero and his family are the people that were so good to her growing up when all her parents were interested in was their work; work that got them into trouble and needing to go into witness protection, which is proven by how this story starts. In the beginning, I felt sorry for the heroine in the way she was forced to leave behind everyone she cared about.
The dialogue was intense due to the main characters back stories, especially that of the heroine. The way she lost her mother has made her cautious, because witness protection is supposed to protect people and certainly her family wasn't protected as well as they should have been. Truly, she's suffered so much and now being able to live her life free of the danger her parents brought into her life should be freeing, but for some reason Maybelle still feels trapped. Will Arthur be able to free her from the past as they grow close again?
"I know you can sleep. I carried you to my spare room, remember. You were out of it."
Maybelle pointed her finger at him. "Don't be cute."
"That's a little difficult given my natural charm and charisma but for you…I'll try."
Both the main characters were enjoyable and I liked how Arthur gained Maybelle's trust, despite the fact that it wasn't easy, because of all that she's been through and the fact that she's had to keep her distance from people for many years. She's strong and brave with what she's doing in her life and I could understand why it was so hard for her to talk about her past. But, at the same time, the hero isn't someone new to her. He's someone she once trusted and could still trust. While Arthur, he's hard-working, smart, charming and I liked how determined he was to win Maybelle back. She meant a lot to him when they knew each other in the past and she's been in his thoughts for years. Even though she was younger than him and his sister's best friend, so she shouldn't be. I also liked how he welcomed her back into his life with open arms, especially once he learnt the truth of why she and her parents disappeared without a trace, which wasn't easy for her to talk about because it's a painful reminder of all she's lost.
Overall, Ms. Clark has delivered a wonderful yet slightly emotional read in this book, which hooked me from the very beginning, because of the main characters and the fact that Maybelle deserves all the happiness in the world after all that she's been through. The way this story ended with the epilogue had me smiling, because of the reunion between Maybelle and someone she was once close with and then the words the heroine said to the hero. They were beautiful and revealed how appreciative she is that she's no longer alone. I would recommend Reunited with his Runaway Doc by Lucy Clark, if you enjoy second chance romances, the sister's best friend trope or Harlequin Medicals by authors Emily Forbes, Annie Claydon or Jules Bennett.

Book Info:

Publication: June 1st, 2017 | Harlequin Medical | The Lewis Doctors #1
Can his love free her from her past?
After years in witness protection, Dr. Maybelle Freebourne has come home–under a different identity. But, on her first day at Victory Hospital, she walks right into the boy she left behind, now director of Emergency and more gorgeous than ever!
Arthur Lewis can't shake the feeling he knows the beautiful new doctor, and a stolen kiss reveals she really is the girl he's never forgotten. But can he convince Maybelle she is finally safe–in his arms?