In Ride Rough (Raven Riders #2) by Laura Kaye, The Raven Riders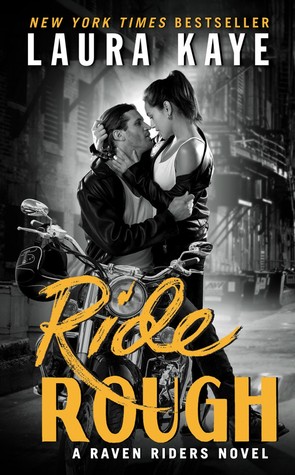 Motorcycle Club means everything to Maverick Rylan. They're his family by choice, and in some cases his actual blood family, as with his cousin and club President, Dare. Although it's also one of the big reasons he lost his chance at a future with Alexa Harmon when she broke things off with him five years ago. But Alexa suddenly reappears back in Mav's life and unfortunately she's in a bad situation. He'll do anything to keep her safe, even at the risk of his own life. And he knows the Ravens will always have his back. Once he gets Alexa under his care and protection, though, Mav will be hard pressed to ever let her go again without fighting for their love.
'…If there was any chance that Alexa was pushing him away out of fear, Maverick couldn't stay away. She could be pissed at him. Hell, she could hate him. As long as she was safe and sound, he could stand just about anything else.'
After the crapstorm that was her childhood and young adulthood, Alexa thought she was finally on the right path to a happy future. Especially after meeting her now fiance Grant. But it turns out that in addition to being a successful businessman, he's also a master manipulator and a control freak. And what he wants to control most? Alexa. So after one fight too many, she seeks out the only man she could think to turn to when she's in trouble. Her former best friend and one time boyfriend Maverick. With his help and the support of his brothers, the Raven Riders, Alexa knows she'll be safe. But being near Mav again brings back all the old feelings they once had for each other. And with her life–and the lives of her protectors–on the line, she'll have to proceed with caution even as she hopes for a reconciliation with Mav.
'The kindness they extended to her disproved stereotype after stereotype. Her billionaire businessman fiance was a manipulative, abusive control freak, and her law-breaking motorcycle gang friends made a habit out of helping people who needed it.'
A second chance romance that was oh so right and completely meant to be, Ride Rough was a fantastic addition to Laura Kaye's Raven Riders MC series. Be ready to swoon when you get to know Maverick, ladies!
"You're a good man, Maverick Rylan. Better than I gave you credit for. But I see you now." She paused, and he hung on her words like they were the oxygen he needed to breathe. "I know it may be too late. But, God, I see you."
Note: This may contain triggers for some readers as it deals with emotional, verbal, and physical abuse, and stalking.
So far in this series, Laura Kaye can do no wrong when it comes to her love matches and her super sexy bad boy heroes with golden hearts. I adore the Raven Riders we've met and love that even though, yes, it is a motorcycle club and things get gritty, their mission is to help those who can't help themselves. Specifically domestic abuse situations. Kaye paints a picture of rough, tough bikers who all have their own troubled pasts who will go out of their way to help those in need in their community. How can you not love them, right?
So Maverick and Alexa had a lot of history between them, both as friends and as a romantic couple. My heart truly went out to them considering the tough situation they found themselves in and I so wanted to see things work out between them. After reading the book blurb, I'll admit that I was afraid there was going to be cheating involved, but nope. The way Kaye wrote this, it may have been a quick transition for Alexa getting emotionally involved again with Mav, but it honestly felt right to me.
I really thought Maverick was a stand-up guy who tried extremely hard to do the right thing where Alexa was concerned. He might have gone above and beyond trying to protect her, but it came from love. Whereas Grant, Alexa's former fiance, was just evil. I admired her for being strong enough to attempt to get out of her bad situation with Grant and show just how much of a backbone she truly had. And I loved that Mav and the rest of the Ravens were right there with Alexa, every step of the way.
Ride Rough had a little something for every reader: Action with a bit of mayhem. Sweet romance and crazy passionate love scenes. The loyalty and brotherhood of bikers. And even Alexa's awesome sphynx cat Lucy who wrapped a certain badass biker around her little paw. Highly recommended!
Book Info:

Publication: April 25th 2017 | Avon | Raven Riders #2
Brotherhood. Club. Family.
They live and ride by their own rules.
These are the Raven Riders…
Maverick Rylan won't apologize for who he is—the Raven Riders Motorcycle Club Vice-President, a sought-after custom bike builder, and a man dedicated to protecting those he loves. So when he learns that the only woman who has ever held his heart is in trouble, he'll move heaven and earth to save her.
Alexa Harmon thought she had it all—the security of a good job, a beautiful home, and a powerful, charming fiancé who offered the life she never had growing up. But when her dream quickly turns into a nightmare, Alexa realizes she's fallen for a façade she can't escape—until sexy, dangerous Maverick offers her a way out.
Forced together to keep Alexa safe, their powerful attraction reignites and Maverick determines to do whatever it takes to earn a second chance—one Alexa is tempted to give. But her ex-fiancé isn't going to let her go without a fight, one that will threaten everything they both hold dear.