In Ride Wild (Raven Riders #3) by Laura Kaye, Sam "Slider" Evans knows he's been MIA from his duties with the Raven Riders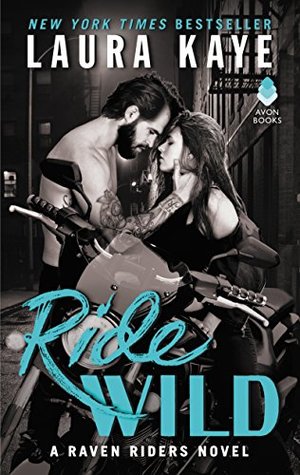 Motorcycle Club and with a lot of things in his life since his wife Kim died a couple years ago. He's barely holding it together for his two boys, Sam and Ben. The best thing he's done since everything imploded was to hire Cora Campbell as a babysitter. She's brought the boys back to their joking, mischievous selves and Slider can't thank her enough. But deciding to hire her on as a full-time nanny proves to be a step too far, as he can't seem to stop thinking about her or craving her attention and beautiful smile. Slider begins to wonder if he and his beloved sons might just have a chance at making Cora a part of their formerly fractured family. So when she starts receiving threats from an enemy of the club, Slider will do anything he can to keep the woman who holds his heart and the key to his future safe.
"You know," she said, licking the water off her lips. "I suspected a really hot guy hid under all the gruffness."
The comment hit him about a dozen different ways. Pleasure. Surprise. Embarrassment. More. Plus, she thought he was hot?
Cora had never been around a group of guys like the Ravens before so she had no idea that good men–reliable, caring men–like them existed. Her own family life was rather hellish before she and her best friend Haven ran away and ended up in even more danger from a gang. That was when the Ravens swooped in and took her in as one of their own. Slider and his two sons especially have made Cora's heart beat again. She loves taking care of Sam and Ben and is thrilled when she gets to do so full-time. Seeing Slider every day is tough, though, as she can't deny her attraction to him. Cora's never had a guy deeply care about or cherish her before but it doesn't take long for Slider to become the man she's dreamed of having in her life. They may both be partially broken by their past, but she's determined they will make each other whole again and become the family she's always longed for.
'For being wrecked, broken, and more than a little lost, Slider Evans had a well of sweetness so deep that Cora wasn't sure how she'd ever find her way out. Or if she even wanted to.'
Ride Wild was a modern MC romance of epic proportions. It was all about family, overcoming betrayals in the past, friendship, and most of all Love. A sweet & tender but extremely passionate love that just blew me away.
Leaning down, Slider kissed her, a soft tug of lips on lips, his hand gentle in her hair. "I see you," he said. "Always."
Four words. And her heart felt too big for her chest.
Oh, Laura Kaye…you've done it yet again. I'm a *huge* fan of her Hard Ink series and always will be. But I have to admit that I'm loving the Raven Riders every bit as much. I think it's because even though Kaye's heroes are rough around the edges and might be looked at as bad boys, they have huge hearts and will do absolutely anything to keep their loved ones safe. I adore the mission the Raven Riders have to protect those who can't protect themselves. Specifically women and children. And that was what brought Cora (and her BFF Haven) under protection by the Ravens. I think it was a perfect fit for them, which was made absolutely clear in this installment.
I've been really interested to see more of Cora's past since we first met her. She's a kickass heroine and has been from the start, but what I loved most about her was her ability to take care of everyone and everything around her. She was meant to be a caregiver, with her big heart and unending loyalty. Cora fell in love with Slider's kids Ben and Sam over the previous two books right along with falling bit by bit for Slider himself. And what a wonderful combination they all made. *Sigh* Those two boys added so much warmth to Cora's life and she had a fun relationship with them, which helped draw them out of their grief over losing their mother two years before.
But it was Slider and Cora together that wowed me. There was so much more to each of their backstories than I had realized and it gutted me to see them suffer. We found out that Slider was almost loyal to a fault and it ripped him apart over what happened with his former wife, Kim…things that he had never told a soul. Until Cora. I swooned over them together, with their subtle humor and flirting, those huge sparks of attraction, and the way they boosted each other up emotionally. Slider truly opened up in this book and became an even better version of the fun-loving, caring guy he had been before, and I loved every second of watching him realize he could love again and be worthy of Cora. Again, sigh…
I could go on and on about how incredibly wonderful Ride Wild was but I know readers will find out for themselves firsthand when they read it. There were some tough situations our characters had to get through that I don't dare mention–that may be triggers for some–but it was absolutely worth getting through the heavier moments to get to Cora and Slider's tearjerker of a HEA.

Book Info:

Publication: Published October 31st 2017 | Avon | Raven Riders #3
Brotherhood. Club. Family.
They live and ride by their own rules.
These are the Raven Riders…
Wild with grief over the death of his wife, Sam "Slider" Evans merely lives for his two sons. Nothing holds his interest anymore—not even riding his bike or his membership in the Raven Riders Motorcycle Club. But that all changes when he hires a new babysitter.
Recently freed from a bad situation by the Ravens, Cora Campbell is determined to bury the past. When Slider offers her a nanny position, she accepts, needing the security and time to figure out what she wants from life. Cora adores his sweet boys, but never expected the red-hot attraction to their brooding, sexy father. If only he would notice her…
Slider does see the beautiful, fun-loving woman he invited into his home. She makes him feel too much, and he both hates it and yearns for it. But when Cora witnesses something she shouldn't have, the new lives they've only just discovered are threatened. Now Slider must claim—and protect—what's his before it's too late.