Riding Steele (Ready to Ride #3) by Opal Carew: Steele is celebrating his birthday and checking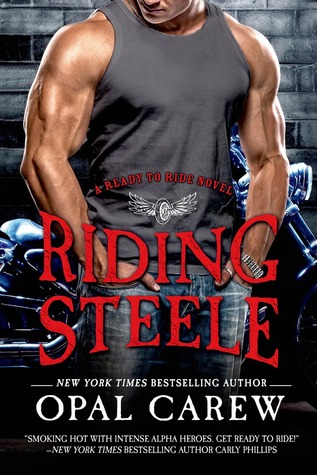 on Laurie. Her brother, in his concern for her safety, wanted Steele and his crew to take care of her while he is out of town. When one of his crew finds Laurie in danger, he immediately steps in to rescue her. Laurie had become increasingly uncomfortable in her relationship with Donovan, but she's intimated by him. She loves to be dominated, but hates how she's given up so much control to Donovan.
Laurie is in part relieved when she's kidnapped, but she's also incredibly concerned over what will happen when Donovan finds her and the bikers who've kidnapped her. She doesn't know if she can trust them, including their leader Steele. After being abused, she's unsure of her own instincts and only wants to escape from another situation where she has no control.
"It's a little dressy for the whole kidnappee-hanging-around-the-log-cabin scenario, don't you think?" she said lightly.
His gaze shifted to the glint of diamonds around her neck.
"True. But I think the necklace trumps the dress."
Even though she's been kidnapped, Laurie finds that everyone in Steele's crew is accommodating and helpful. She's slow to trust them and feels more unsure when she learns more about Donovan's past. Learning the full extent of how much trouble she is in helps her to accept her situation…for now. It also means that she feels free to give in to the compelling attraction she feels for Steele. Steele is incredibly protective and possessive of Laurie.
"Yes, I know. I'm no longer the big bad man who has you chained to his bed." He grinned and kissed her lips lightly.
She smiled timidly at him. "True. But you know, if I had to find myself trapped in someone's bed, I'm glad it was yours."
Riding Steele is a quick paced and steamy motorcycle club romance where opposites attract and discover a new side to themselves. Opal Carew provided an interesting group of bikers who created their own family with unfailing loyalty to each other. Ms. Carew gave an honest portrayal of an abusive relationship and the difficulty Laurie had in getting out. Riding Steele can be read as a standalone. Fans of Sara Fawkes and Nicole Edwards would enjoy Riding Steele.

Book Info:

Published March 17th 2015 by St. Martin's Griffin | (Ready to Ride #3)
Being kidnapped by bikers is a harrowing experience, but for some reason, Laurie doesn't feel as terrified as she should. The leader's steely eyes soften when he looks at her, and the others in his gang clearly know she's hands off. But does that include Steele's hands? Her brain resists him, but her body insists she wants those big hands all over her.
Steele doesn't know how he wound up in this mess—with a kidnapped woman on his hands and the police hot on their trail. Now he and Laurie are in hiding at an isolated cabin, and Steele has to figure out how to extricate himself…and steer clear of his accidental captive whose tight, slinky clubbing attire is making him think all kinds of dangerous thoughts…