In Riverbend Road (Haven Point #4) by RaeAnne Thayne, Wynona 'Wyn' Bailey has had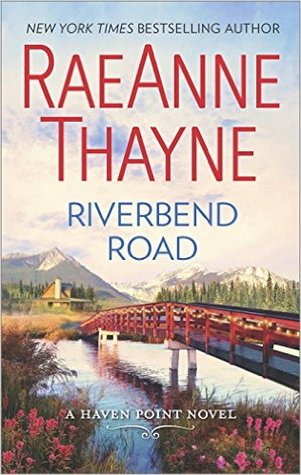 a secret crush on Cade Emmett for years. But as she sees it, there are two problems standing in their way. First, he's her brother Marshall's longtime best friend. Second, he's her boss as the chief of police. But that doesn't mean Wyn can't hope Cade will one day see her as the woman she has become. So when a near-tragic incident forces her to take a look at her life and career as a police officer and has Cade hinting at his true feelings for her, she stands on the edge of making some major changes. But Wyn is more than ready and tough enough to face the challenges headed her way.
"…I should never have lost my head earlier. I swear, it won't happen again but if you think you need to file a complaint with the mayor and city council, I completely understand."
She stared at him, hurt that he would even think her capable of such a thing–especially when her only complaint was that he didn't kiss her long enough!
Since leaving the Marines and becoming an officer, then police chief in his hometown, Cade has tried to always put duty first. Especially where it concerns Wyn. He could never hurt his best friend's sister, and the daughter of his beloved mentor, and live with himself. That's why he's pushed down his attraction to her for so long. But seeing Wyn take a risk that could have ended in disaster freaked Cade out enough that he kissed her before thinking things through. Now he knows just how good she feels in his arms and he can't seem to step back. It's up to him to make the right decision. But Cade never realized how difficult it would turn out to be.
"Because you're attracted to me, that makes you without honor?" she whispered.
"If I act on this–if I went inside with you right now and turned my completely inappropriate fantasies into reality–I would be betraying everything I have fought to overcome since I was a stupid kid caught stealing beer at the Gas N Go. I won't do it Wyn. No matter how badly I might want you."
Riverbend Road was another stellar contemporary romance from one of my go-to authors, RaeAnne Thayne. Pairing a brother's best friend AND an employee/boss trope together–with a thread of mystery added in for good measure–this hit all of the bells and whistles I look for in a solid story.
'She was his officer, which made her completely off-limits. Beyond that, she was his best friend's little sister and the daughter of the man responsible for everything good and right in Cade's life.'
For some reason I can never fully explain why I always seem to connect with each of Thayne's characters. Maybe it's the realistic manner in which she writes, with down to earth characters who have to work hard to earn their HEA. Or maybe it's that she focuses on life in small towns which definitely resonates with me. Whatever it is, each book I've read in the Haven Point series has captured my attention and my heart. Riverbend Road was no exception. Watching the easy relationship between our hero and heroine morph into one filled with longing and tension, as well as seeing a friendship blossom between two neighbors after a rocky start was simply wonderful.
I really liked that even though there were some serious, painful emotional moments for Cade and Wyn to work through individually, they were supportive of each other in whatever capacity they could be. Theirs was a complicated relationship given that Cade was Wyn's brother Marshall's best friend. Plus Cade was her boss. They made a great team as cops who cared deeply for their community and ended up having some fun along the way. One scene I loved was when Wyn was teaching self-defense to some local seniors (which was hilarious) and Cade was volunteered as the 'bad guy' she had to take down. It was comical and sexy, ramping up the already combustible tension between them.
Both Wyn and Cade had some family issues/drama to sort through here. Cade felt like he was always trying to prove himself worthy of being chief of police to townspeople and to the memory of his mentor, Wyn's father John Bailey. Having come from the wrong side of town and with a brother who was still finding himself in trouble more often than not, Cade didn't feel good enough for Wyn. She, on the other hand, wanted to be seen by him as something other than one of the guys on the force or as Marshall's little sister. Wyn had also hit a crossroads in her career and found she needed to be honest about what she wanted for her future. Which basically was a chance to have Cade see her as a woman.
Likeable characters. A sweet and engaging storyline. A hint of suspense. Riverbend Road had all of the elements needed to make this a page-turner. I think romance fans will enjoy this as a standalone but will love it even more when it's read along with the other terrific installments in the Haven Point series.
Book Info:

Publication: June 21st 2016 | by HQN Books | Haven Point #4
Return to Haven Point, where New York Times bestselling author RaeAnne Thayne proves there's no sweeter place to fall in love
Protecting the streets of Haven Point isn't just a job for police officer Wyn Bailey, it's a family tradition. But lately she's found herself wanting more, especially from her boss—and overprotective brother's best friend—sexy chief of police, Cade Emmett. The only problem is getting Cade to view her as more than just a little sister.
Cade's hands-off approach with Wyn isn't from lack of attraction. But his complicated past has forced him to conceal his desire. When Wyn is harmed in the line of duty, Cade realizes the depth of his feelings, but can he let his guard down long enough to embrace the love he secretly craves?