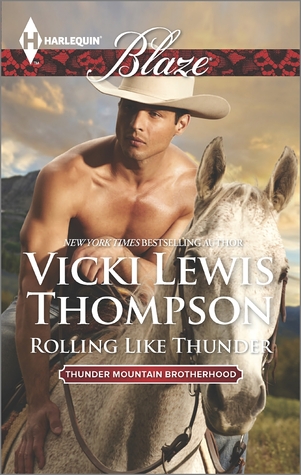 Rolling Like Thunder by Vicki Lewis Thompson: Can one trip change your life forever? Or will the holiday be a mean taste of what could be but won't mean forever?
Chelsea Trask was used to doing things her own way. She was great at everything she tried though whether it was running her own business, helping raise funds for great causes or babysitting multiple children. Anything she wanted to do, she was going to do and excel at. Then again there was the whole matter of relationships, that it seemed was a problem as she couldn't seem to get over the one man she wanted, not even when he was married.
Finn O'Roarke was driven to say the least. The problem was he also believed that he could only be focused on one thing and one thing only. So there wasn't the ability to have relationships or really any sort of connections with people. So in guy logic he got married to someone who he knew he would never focus on. The problem was when he divorced her, she, the one he really wanted, was still there. He knew he couldn't give in to the attraction though.
When Finn and Chelsea take a trip to the Ranch to work on the Academy kickstarter everything changes. All of a sudden the sparks get to be too much and the fire burns even brighter. Will this just be a ranch thing though? Or will this heat sustain them in the Seattle temperatures as well?
This is the third in the Thunder Mountain Brotherhood series and Ms. Thompson has continued this series beautifully. While there isn't as much secondary going on in this books as there has been in the previous this book is definitely about the relationship and in many ways really about Finn and discovering who he is and who he can be. This makes this a good standalone read as well. The plot is fairly quick moving and the details are great. I'm not really sure about the title, but the Thunder Mountain Brotherhood is strong and shows Ms. Thompson knows her way around a pen like a wrangler knows his way around his horse.

Book Info:

 Expected publication: July 21st 2015 | Harlequin | Thunder Mountain Brotherhood #3
The last cowboy…
All work and no play makes Finn a dull cowboy. Since his divorce, Finn O'Roarke has put all of his time into his Seattle-based microbrewery, unaware that back in Wyoming, his foster parents are on the verge of ruin. Now Finn and his foster brothers are trying to save Thunder Mountain Ranch–and only one woman can help them turn it all around.
Marketing guru Chelsea Trask has had a thing for the gorgeous brewer for ages. When they work together at Thunder Mountain Ranch, however, she starts to see Finn's cowboy side. And it's irresistibly hot. Best of all, the attraction that's been sizzling beneath the surface has erupted in some very sexy situations.
But is Chelsea falling for the real Finn…or for the cowboy he used to be?