In Roman Crazy (The Broads Abroad #1)by Alice Clayton and Nina Bocci, Avery Bardot's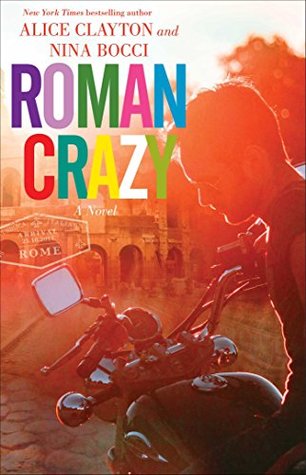 life at age thirty is nothing like she thought it would be. Spending her days fussing with the details of her husband's career and their path in Boston society is not exactly putting her degree in art history to good use. Whatever happened to the days where she dreamed of traveling the world, seeing the sights and restoring historical art pieces? And as Avery's marriage suddenly unravels she knows a change is definitely in order, so she decides travel to Rome to stay with her friend Daisy and put her life back together.
'There was always that little nugget of hope that somehow someway our paths might cross again and I'd be granted the privilege of seeing this man once more, to remember what I knew so well, what I loved so deeply.'
Avery's first night in Rome, however, changes everything. A chance encounter at a 'welcome to Rome' dinner for her brings her face-to-face with Marcello Bianchi. The man she shared an incredible summer with in Barcelona when she was studying abroad in college nine years ago. Things didn't end on the best of terms but there is still an incredible pull between them. Avery doesn't want to get involved so soon after the demise of her marriage, but there's no denying her heart or her handsome Italian architect. And as they spend days and nights traveling the ancient city, eating delicious food, visiting historic sites, and getting reacquainted, Avery realizes that maybe this is where she was meant to end up all along.
His arms were crossed over his broad chest and the knowing smirk was back, along with that sexy, knee-buckling grin that had me immediately scouting for available horizontal surfaces.
"What are you looking at?" I asked, feeling the blood fly to my cheeks.
"Nothing," he said, pushing off the wall. "Everything." He circled me like prey in the jungle. "You."
Alice Clayton and Nina Bocci's new release Roman Crazy will have you absolutely head over heels crazy for reunited lovers Avery and Marcello–and Rome, of course, the gorgeous and diverse city this was set in.
'Marcello looked every bit like my greatest love and my biggest regret.'
Every new story from Alice Clayton is like a gift that I can't wait to open. While I wouldn't change that for the world, unfortunately that also means that I end up reading all of her books way too fast when I'd rather linger and enjoy them a bit longer. That's what happened with Roman Crazy. Once I picked this up, I couldn't put it down. It had all of the funny moments, strong friendships, and sexy chemistry that I normally expect in her books along with a nice amount of personal growth on Avery's part. On top of that, this was a second chance romance, which is one of my favorite tropes. And boy does Alice Clayton and Nina Bocci know how to write a stellar reunion romance! *happy sigh*
I do feel like it should be mentioned that for readers who avoid stories with infidelity in the plot, they might take issue with parts of this book. I won't spoil things and say exactly what happens or who is involved, but where it is a trigger subject for some readers, it's probably best to know about it before picking this one up. I thought Clayton and Bocci handled the situation very well and even somehow managed to balance it out with a bit of lighthearted humor as the characters dealt with their emotions along the way. But be warned it did play a part in the story.
Aside from the passionate and super sensual romance that went on between Avery and Marcello–oh my goodness, that hunky Marcello!–my favorite part of the story was Avery's character development. It was dramatic and ended up being completely satisfying to watch her go from her life always centering around someone else to finding out who she truly was again. I loved her reintroduction into the world of art (and what better place than Rome?) and seeing her blossom as a friend while Avery stayed with Daisy. Daisy was awesome, by the way. Loyal, outrageously funny, a little mysterious, and supportive of Avery every step of the way. I'm hoping the next book in the series is about Daisy so we get to find out more about the details of her life. She was really good at evading Avery's questions about her own life but somehow always got the specifics on Avery and Marcello. 😉
Roman Crazy was just the beginning of The Broads Abroad series but it's already off to a killer start. Romance fans are bound to flip over Avery's adventure and the way her life changed for the better when she took control of the situation…and stole the heart of one sexy Roman architect.
Book Info:

Publication: September 13th 2016 | Gallery Books | The Broads Abroad #1
Avery Bardot steps off the plane in Rome, looking for a fresh start. She's left behind a soon-to-be ex-husband in Boston and plans to spend the summer with her best friend Daisy, licking her wounds—and perhaps a gelato or two. But when her American-expat friend throws her a welcome party on her first night, Avery's thrown for a loop when she sees a man she never thought she'd see again: Italian architect Marcello Bianchi.
Marcello was the man—the one who got away. And now her past is colliding with her present, a present where she should be mourning the loss of her marriage and—hey, that fettuccine is delicious! And so is Marcello…
Slipping easily into the good life of summertime in Rome, Avery spends her days exploring a city that makes art historians swoon, and her nights swooning over her unexpected what was old is new again romance. It's heady, it's fevered, it's wanton, and it's crazy. But could this really be her new life? Or is it just a temporary reprieve before returning to the land of twin-set cardigans and crustless sandwiches?
A celebration of great friendship, passionate romance, and wonderful food, Roman Crazy is a lighthearted story of second chances and living life to the fullest.