In Roomies by Christina Lauren, Budding writer Holland Bakker would have to be blind and deaf to not notice the gorgeous and hugely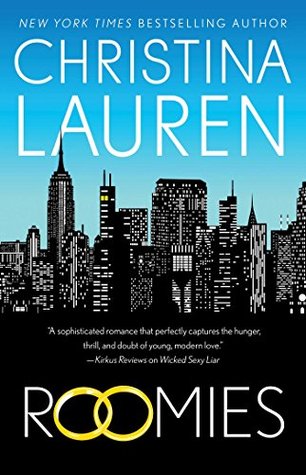 talented guitarist who seems to be performing every time she takes the subway. Okay, so if she's honest…she knows his schedule. And she might have been admiring him from afar for a few months. But Holland never expected to speak with him let alone be saved from a zombie attack–or drunk guy, same thing–by the sexy musician. After getting to know him a tiny bit, finding out he's from Ireland and was here to study music, hoping for a big break, she likes Calvin even more and wants to do whatever she can to help him reach his dreams.
"I was thinking…that if you–if we…"
He continues to stare, unmoving. When I don't finish my sentence, his eyebrows slowly rise.
I swallow a gulp of air and push the words out in a rush: "I was thinking thatwecouldgetmarried."
Calvin sits back, surprised.
Holland's connections to a huge Broadway show helps her make the first move in thanking Calvin for saving her. He proves to be every bit as talented as she knew he would be and soon he finds himself with the opportunity of a lifetime. One teensy little problem, though: his visa expired a few years ago and he'll be sent back to Ireland if anyone finds out. So ever the helpful person, Holland offers to marry Calvin before she can even think of the emotional implications. He doesn't realize she was already crushing on him before they officially met. And she knows she's the one who has the most to lose in the feelings department. But how can Holland deny the chance to see if she can turn a marriage of convenience into a real love affair?
'I'm less afraid of getting in trouble for this fake marriage than I am of falling in love with someone who could be playing me completely.'
Funny and heartfelt, Roomies put a modern spin on a marriage of convenience trope while still including everything I absolutely love about super duo Christina Lauren's writing.
"What you did for me was astounding, and who you are–calm, and assured, and sexy, and carefully creative… I am absolutely smashed in love with you."
I seriously have so much fun reading anything by Christina Lauren. There's just something about their work that resonates with me and keeps me coming back for more. Roomies was every bit as comical, touching, and smexy as I was hoping and of course, yet again, I fell quickly for the offbeat cast CLo created here. Okay, so the hero and heroine both had their moments when I wanted to give them a little shake to smarten them up. (lol) But once I felt like I was really getting to know them and we got through the angsty moments, I loved them as individuals and most definitely as a couple. They were so stinking cute together it was almost ridiculous. 😉
So this was told from Holland's POV and I think it worked well. I really would liked to have seen some passages from Calvin's POV but I think some of the secrets between them might not have been so intriguing if written that way. Holland was a fun heroine who was smart and talented but wasn't using those talents as a writer since graduating. She was stuck in a job that didn't really fit her but she was in an environment that she loved–Broadway theater with her beloved uncle–so it was tough to think about moving on. I have to say that Holand's relationship with her two uncles who were in NYC and her brother Davis back home in Iowa was fantastic. I loved how they all supported each other completely but still held each other accountable for their choices.
I also loved Holland's crush on Calvin and I probably would have totally gone to the subway just to hear him play his guitar like she did. I mean, he was a sweet, self-deprecating Irishman who was an incredibly talented musician. There were times when he seemed too good to be true and then times when I wasn't sure if Calvin was using Holland to get his green card. But the longer they were together, the more I rooted for them to make their lovely relationship last.
With scenes set on Broadway, an attack by a drunk-zombie-subway guy, and even an '80s hair metal cover band sighting, Roomies had enough laughs–and more than enough heart–to go around. Christina Lauren has yet to fail me with any of their books so I can only imagine what literary gift they'll give us fans next.
Book Info:

Publication: December 5th 2017 | Gallery Books |
From subway to Broadway to happily ever after. Modern love in all its thrill, hilarity, and uncertainty has never been so compulsively readable as in New York Times and #1 international bestselling author Christina Lauren's (Beautiful Bastard, Dating You / Hating You) new romance.
Marriages of convenience are so…inconvenient.
Rescued by Calvin McLoughlin from a would-be subway attacker, Holland Bakker pays the brilliant musician back by pulling some of her errand-girl strings and getting him an audition with a bigtime musical director. When the tryout goes better than even Holland could have imagined, Calvin is set for a great entry into Broadway—until he admits his student visa has expired and he's in the country illegally.
Holland impulsively offers to wed the Irishman to keep him in New York, her growing infatuation a secret only to him. As their relationship evolves from awkward roommates to besotted lovers, Calvin becomes the darling of Broadway. In the middle of the theatrics and the acting-not-acting, what will it take for Holland and Calvin to realize that they both stopped pretending a long time ago?