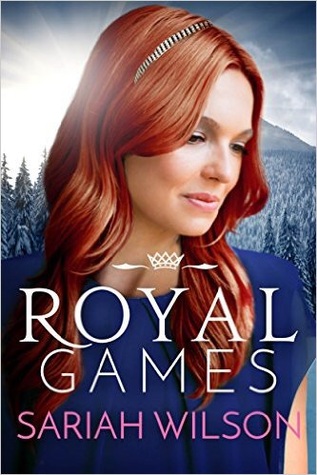 Royal Games by Sariah Wilson features Genesis Kelley and Prince Rafael of Monterra, two characters first introduced in book two of the series, Royal Chase. Rafe and his brother Dante were on the reality show Marry Me, in which they pretended to be the same person. After the truth was discovered, Genesis returned home to Frog Hollow lick her wounds. When she returns from a publicity appearance, she discovers her aunt rented out their guesthouse to Rafe.
I liked Rafe. Despite his actions on the reality show, he genuinely felt bad about hurting Genesis and was determined to make things right. He not only helped her and her aunt, but he helped the people of Frog Hollow as well. When word got out the only nearby factory suddenly closed leaving a large portion of the town unemployed, Rafe moved part of his business to Frog Hollow and hired all the displaced workers. He volunteered to help with town events. Not only did he slowly win back her trust, but he earned the respect of the town.
At first I thought Genesis was too hard on Rafe but after reading what her childhood was like, it became understandable why she had such a hard stance on lying. She had to not only learn to trust Rafe again, but she also needed to learn to trust herself.
While it helps if you have read Royal Chase, it isn't necessarily a requirement. Being one of the finalists on Marry Me, Genesis had been featured a bit in that book. Having read it you will have a better understanding of the friendship between Genesis and Lemon, who is engaged to Rafe's twin, Dante, and who makes a few appearances in this book. If you haven't read it, it's still ok because Royal Games features flashbacks to the show so you get to see what happened between Rafe and Genesis and how their relationship developed.
After reading Royal Chase, I was interested in seeing how Rafe was going to make things right with Genesis, and this book didn't disappoint. If you've enjoyed the previous books in the series, you'll most likely enjoy this one as well. Even if you haven't read them, I recommend giving this book a read.
Book Info:

 July 5, 2016 | Montlake Romance | The Royals of Monterra #3
Genesis Kelley didn't just get her heart broken. The aspiring veterinarian had it crushed in front of millions of viewers on the dating reality show Marry Me. Now, just as she's getting her life and dignity back together, her royal heartbreaker, Prince Rafael of Monterra, has landed in Frog Hollow, Iowa. And he's renting out her aunt's guest cottage.
Deceiving TV audiences for his brother's sake cost Rafe the girl of his dreams. But he's going to fix it, even if it means moving from his mountain-kingdom home to small-town Iowa. A prince doesn't give up on his rightful princess—especially once he realizes Genesis is in deeper danger than she knows.
Between fixing her truck, whisking her off to Monterra for a whirlwind date, and charming the entire town, Rafe is thawing the ice around Genesis's heart. Will it be enough to earn back her trust, protect her from her past—and sweep her into a real-life fairy tale?