In Royal Wedding (The Princess Diaries #11) by Meg Cabot, After the latest scandal her father has created, this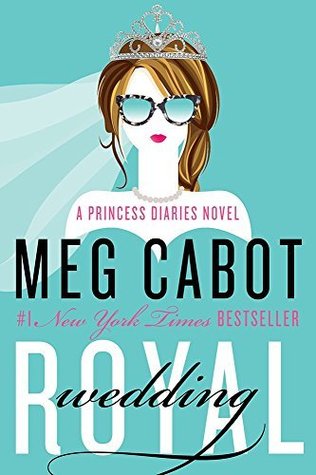 time in New York City, Princess Mia is currently hiding out in the Genovian consulate building. It's a good thing the new teen community center she opened is being run by two of her close friends so she can stay out of the limelight. Stressing over the state of her family's affairs, her charity commitments, and the future of Genovia in general, Mia's wonderful boyfriend Michael decides to take her on a much needed tropical weekend getaway.
Three things I'm grateful for:

1. I get to do what I love–make the world a better place by drawing attention to causes that matter to me (well, on a good day. Today would not be an example of that.)

2. I have wonderful friends, who are always there to support and help me when I need them.

3. I'm marrying the man I love.
It turns out there was an ulterior motive for Michael whisking Mia away. While there, he finally asks her to marry him. But somehow the news beats them back home and the paparazzi are in an uproar. Coupled with a new family debacle, Mia will have not only a royal wedding to plan, but more issues to sort through. The only things keeping her from going out of her mind? The love of her fiance Michael, and the new gratitude diary she has begun writing in every day, listing at least three things for which she is grateful.
Royal Wedding was a charming and fun addition to The Princess Diaries series. Mia chronicled for us the trials and tribulations of daily life in her diary and gratitude journal, which helped her focus on the positive–not the craziness. Well, sort of.
Author Meg Cabot proves once again that living the life of a princess may sound like fun and games, but it's a tough job. Poor Mia had everything a twenty-six year old could think of thrown at her in this latest novel. But she came out of it (mostly) unscathed and happier, which I loved. The way her character was written, in such a straight-forward manner, made Mia more realistic and believable. I found it easy to empathize with her and laugh or get frustrated in the same scenes as she did. That's always fun, when a character can draw me in to the storyline like that.
There is so much that happened over the course of this book that I can't mention or it will spoil everything. And so much I'd like to discuss, but I'll be good. 😉 I will say that family issues abound, politics were as crazy as ever in Genovia, things really heated up between Mia and Michael when they got engaged, and the ending was quite befitting a princess. Speaking of Michael…I really loved him. He was geek-chic and had such a wonderful dry sense of humor. The scenes between him and Mia were always filled with laughter and tons of passion.
If you've been following The Princess Diaries, this is one book you will not want to miss. Mia, Michael, and their whole wacky bunch of friends and family go on quite the adventure this time around.
Book Info:

Publication: June 2nd 2015 | by William Morrow Paperbacks | The Princess Diaries #11
From the #1 New York Times bestselling author of the Princess Diaries series, comes the very first adult installment, which follows Princess Mia and her Prince Charming as they plan their fairy tale wedding—but a few poisoned apples could turn this happily-ever-after into a royal nightmare.
For Princess Mia, the past five years since college graduation have been a whirlwind of activity, what with living in New York City, running her new teen community center, being madly in love, and attending royal engagements. And speaking of engagements. Mia's gorgeous longtime boyfriend Michael managed to clear both their schedules just long enough for an exotic (and very private) Caribbean island interlude where he popped the question! Of course Mia didn't need to consult her diary to know that her answer was a royal oui.
But now Mia has a scandal of majestic proportions to contend with: Her grandmother's leaked "fake" wedding plans to the press that could cause even normally calm Michael to become a runaway groom. Worse, a scheming politico is trying to force Mia's father from the throne, all because of a royal secret that could leave Genovia without a monarch. Can Mia prove to everyone—especially herself—that she's not only ready to wed, but ready to rule as well?