Ruining Mr. Perfect by Marie Harte is the third book in the McCauley Brother's series. I for one have not read the first 2 books, but after reading this one, I ran out to get the other two. Yes, this book was that good. Not once did I feel lost in the middle of a series.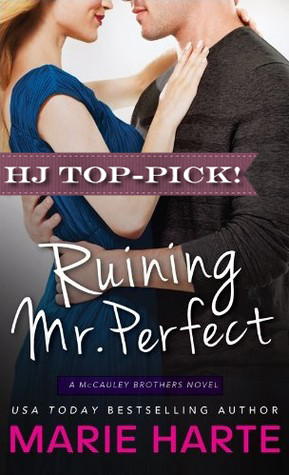 This book stood on its own and really, set the reader up for the next book to come.
Vanessa Campbell is a straight laced, perfectionist who loves to be right, lives to be right, can never fail. The only child of two world famous parents, she learned at a very early age that she was expected to be perfect. When she meets Cameron McCauley, hot, handsome, a perfectionist like herself, she falls and falls hard, but what can someone like Cam see is someone as unlovable, incapable of loving, as her.
Cameron McCauley has had the hots for Vanessa Campbell since the minute that he saw her. Wanting nothing more than to catch her attention, he works out at the same gym, he spars with her, he listens to her, he tries to woo her into seeing him. He is a perfectionist, he is smart, he never likes to be wrong, but he knows that if can just make Vanessa see how perfect they are together, then they can not lose, they will both be right in the end.
What I loved most about these characters is how although they were so very much alike, Vanessa always had feeling of self doubt, always waiting for the other shoe to drop, never wanting to hurt Cam, but somewhere in the back of her mind, she was always waiting for him to wake up, see her for what she is (or what she thinks she is) and run, not walk away from her. Cameron doesn't believe that Vanessa could possible love him as much as he loves her, but he will keep seeing the wounded little girl underneath the head perfectionist shell, he will keep reassuring her that he is here for her, never pushing her into decisions, always respecting her and letting her find her way.
Cam's family is a riot. I loved the interaction between the 4 brothers (even though one is only a best buddy, he has been practically adopted into the family). His 6 year old nephew Colin is hysterical and had me rolling. Vanessa's roommates were also so loving and so funny. Pushing buttons and getting under each others skin, but having each others backs at the same time.
I loved everything about this story and look forward to reading the rest of this series. I gave it 5 perfect stars.
Book Info:

October 7th 2014 by Sourcebooks Casablanca |  (The McCauley Brothers #3)
It's Not Easy Being Right…
Vanessa Campbell is a CPA by day and a perfectionist by night. She's fit, successful…and decidedly lonely. She can't stop thinking about the youngest McCauley brother, Cameron. He's just like her: smart, attractive, and usually right—except when dealing with her.
…But Someone's Got To Do It.
Cameron McCauley likes Vanessa a little too well. She's a blond goddess with a razor-sharp tongue. She hates to be wrong, just like him. But she can hold a grudge and is stubborn to a fault—also like him.
A past misunderstanding has them rubbing each other the wrong way. Cam is dying to shake Vanessa up—get her to let loose. But if he succeeds, can his heart handle it?