Rule Master by Sienna Snow is book two in the Rules of Engagement Series and will have readers battling their emotions with this well-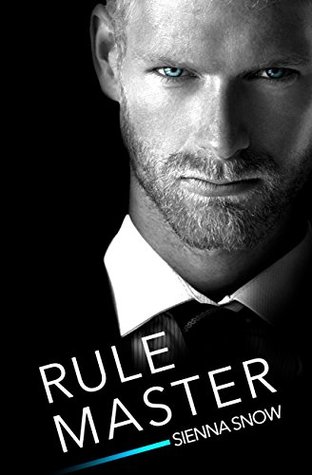 written gem.
Milla and Lex are hiding a secret, well, I should say, were hiding. Not only are they lovers, but Lex is Milla's master and her husband. Their friends and family didn't even know and they've been together for ten years. Talk about a huge secret! But once Milla decides to sign something without talking to Lex, will he allow her to explain or will they lose their future together?
Milla belongs to Lex. It's easy as that. When Milla runs away, he goes after her. When she is targeted, he's there for her, but when she continues to push him away, will he still be there? There's only so much a person can take, right? Trust is important in any relationship, but especially in one that practices BDSM and once that trust is gone, it's hard to come back from. Milla and Lex must face their emotions, make peace with their past and focus on each other's needs if they want a chance at a future together.
I loved Milla's character. She might act as a rebel or a brat, but that's only a façade. She's a strong heroine, who does questionable things out of love for her family and this includes Lex. Her momma, on the other hand, is very judgmental and doesn't deserve Milla's love or loyalty. As for Lex, he's a favorite for sure. He's very patient with Milla and proves his love to her, over and over again. Their relationship wasn't an easy one, especially since they had to keep it a secret, but he tried to make it work.
There are some parts in this book that are frustrating, parts that are scorching hot, and parts that might make you cry. This author made me cry towards the end when I thought all hope was lost, but thankfully, with Lex and Milla, the hope is still alive and burning brighter than before.
I would recommend the Rules of Engagement Series to anyone who enjoys erotic romances with BDSM and for those who enjoy seductive storylines that pull readers in from the very start!

Book Info:

Publication: March 7th 2017 | Forever Yours | Rules of Engagement #2
His rules. Her pleasure. His way.
Italian heiress and international financier Milla Castra knows she can't avoid him forever. Irredeemably hot and controlled Lex Duncan once shared her craving for things deliciously forbidden. He was her lover. Her Master. And the husband she's kept secret from everyone.
But Lex will never relinquish what's his—and Milla is definitely his. And he knows she can't resist the exquisite pleasure that awaits in his arms. When the violence of her past threatens them both, Lex will risk everything to keep Milla safe . . . before she submits to the cruelest master imaginable, Fear.