Ruthless King by Meghan March is book one in the Mount Trilogy and is one-heck of a page turner. From the very beginning my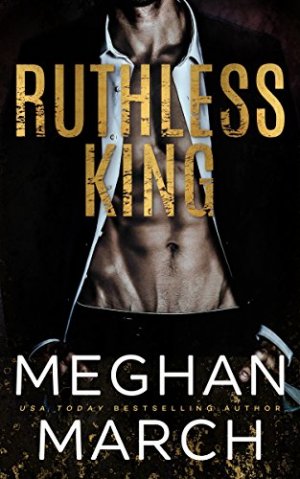 attention was captured and I felt like I couldn't read it fast enough. Thankfully, book two is already out, so I will be binge reading that one next.
The King of New Orleans, Lachlan Mount, has come to collect a debt. A debt, Kiera Kilgore never even knew existed. Turns out, her no good husband borrowed half a million dollars from him and now Lachlan wants what is rightfully his. The only problem, Kiera's husband is dead and she doesn't have the money.
Lachlan is one of those men you don't want to mess around with. He's dark, dangerous, and knows his way around women. He's a man to be feared, but Kiera's not cowering in a corner. When Lachlan informs Kiera that he will take her, in lieu of the money that's owed to him, things really start to heat up.
Kiera is unlike the other women Lachlan goes through. Kiera is sassy, feisty, and full of passion. She'll give her body to Lachlan because she has too, but she won't make it easy on him. I loved Kiera and Lachlan together. He wants her to submit to him, but never forces her. He's actually helping Kiera get in touch with her sexuality and experience things she only dreamed about. Lachlan's behavior when he's alone with Kiera is different from what the outside world sees.
The ending had me in shock. Seriously, this author has some twists and turns lined up that I didn't see coming and I'm already foaming at the mouth to get started on the next book. An epic start to what I foresee being a must-read trilogy.
Book Info:

Publication: October 17th 2017 | Meghan March LLC | Mount Trilogy #1
Get ready for the darker and dirtier side of New Orleans with a brand new alpha romance from USA Today bestselling author Meghan March.
New Orleans belongs to me.
You don't know my name, but I control everything you see—and all the things you don't.
My reach knows no bounds, and my demands are always met.
I didn't need to loan money to a failing family distillery, but it amuses me to have them in my debt.
To have her in my debt.
She doesn't know she caught my attention.
She should've been more careful.
I'm going to own her. Consume her. Maybe even keep her.
It's time to collect what I'm owed.
Keira Kilgore, you're now the property of Lachlan Mount.