In Safe From Harm by Kate SeRine, Deputy Gabe Dawson has wanted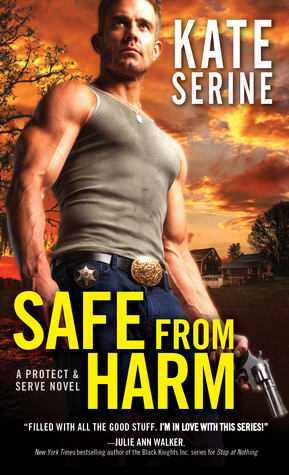 prosecutor Elle McCoy for years. She's wanted him too, but believes he's a playboy that's not interested in her. That changes when Elle is attacked outside the courthouse, ending with Gabe taking a bullet for her. Now the pair need to work together to stop a local radical family, who are out to get Gabe, the rest of the Dawson family, and Elle for things that happened in the past.
SeRine has created a bad guy that is easy to hate. Jeb has no problems using his own family to further his agenda of revenge against the Dawson's and his hatred of the government. He's even willing to put his children in situations that can end up with them dying, all because he's so blinded by his beliefs.
Elle and Gabe worked well together, but there were times Elle was too hard on him. For example, Elle is quick to blame Gabe for someone backing out of their testimony without giving Gabe a chance to explain. She's willing to believe the rumors about him despite him showing her who he really was. In essence, there were times it felt like she was willing to assume the worst about him without giving him the benefit of the doubt. For his part, Gabe never gave up on her, despite the fact that her assumptions hurt him at times.
He crossed his arms over his chest, his posture growing defensive. "Didn't realize you were counting. If I'd known, I would've given you a copy of the scorecard I keep in my wallet, let you play along."
She closed her eyes, trying not to let his sarcasm get to her. He was hurt by her perception of him–that was clear. The knowledge that her words were hurting him made her stomach sink.
All of Gabe's brothers, as well as his father, appear in this story. It was clear the family was close, and it was great to see how they rallied around each other. This is the second book in the series. The first book is about Gabe's brother Kyle, who is in the FBI. I haven't read that book but had no issues following along with all the characters in this one, so I believe it can be read as a standalone.
Safe from Harm has a nice blend of suspense, action, and romance that will keep readers turning the page to find out what happens next. I would recommend it for readers who enjoy romantic suspense.
Book Info:

Publication: October 4, 2016 | Sourcebooks Casablanca | Protect and Serve #2
Deputy Gabe Dawson has had his eye on prosecuting attorney Elle McCoy for years. But the smart, sassy redhead is immune to his legendary charm and good looks—until Gabe is shot on the courthouse steps protecting Elle from a vengeful domestic terrorist.
Elle McCoy has been protecting her heart from the cocky playboy cop. But it's hard not to notice a guy when he takes a bullet for you and seems determined to turn his life around. With the extremists still at large and Elle a target, Gabe and his law enforcement brothers kick into high gear to take down the threat. And as they work together, Elle realizes she's losing her heart to a man who will risk it all to keep her safe from harm.