Sarah and the Secret Sheikh by Michelle Douglas: One night can change everything, but when it starts because of a misdirection it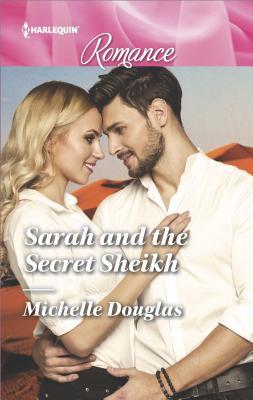 can be hard to see what might just be right.
Sarah Collins was less than confident in herself. She knew she would figure it out but she did tend to let people walk all over her, while standing up for everything and everyone she loved. Why she did it? Well when you love you love with everything you are, she just hadn't figured out how to love herself.
Majed had been all but banished four years ago. Four years after his brother was killed. Four years after his entire world shifted. He was the son of the current Sheikh and though he was still trying to figure out what he was going to do he knew eventually he was going to go home. He had his honor and there was nothing anyone could do to take that away from him.
Sarah didn't know Majed was the son of a Sheikh or that he had a "past," she knew she was attracted to him though and for one night she was going to enjoy it.
Ms. Douglas has given her readers an interesting novel. There are secret identities, a "chance" baby, murder and intrigue. It's a buildup romance with very little heat, but with such a story of redemption as well as learning to love yourself. You will find yourself connecting to these characters with the insights into their personalities that are so well written you will think you have known them for years. For a sweet love story, take a chance on a possible sheikh.

Book Info:

Publication: September 5th 2017 | Harlequin Romance |
Expecting the sheikh's baby When one magical night with gorgeous and enigmatic Majed leaves Sarah pregnant, she's torn apart over whether to reveal her secret. She already loves this baby, but will confirmed bachelor Majed feel the same? Discovering he's going to be a father changes everything for Majed. It's time to face the music and unveil his true identity as Prince of Keddah Jaleel! He'd love to make Sarah his sheikha, if only he can convince her she'll be much more than his convenient bride