Saving Jake (Blessings, Georgia #3) by Sharon Sala: What I love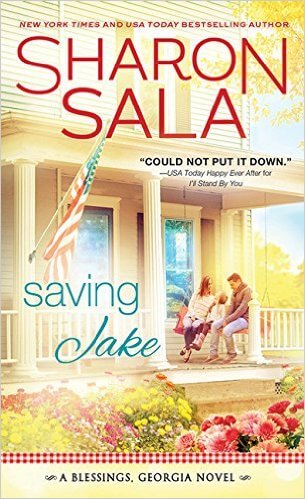 about the Blessings, Georgia series is that each book is a perfect stand alone. I love the small town, southern welcome I get each time I visit.
This book takes you on a emotional journey through PTSD, surviving and coming out on the other side. It is about learning from your mistakes, it is about healing, and being brave in the face of danger. This is the beautiful story of Jacob and Laurel.
Jacob Lorde survived the war. After almost being killed, he has returned to Blessing, Georgia to try and find some peace, make something of his life. Living in his old family home, Jacob is still suffering the nightmares of war and PTSD. What he does not count on is the young widow next door with her adorable daughter making such an impact on his life.
Laurel Payne knows all too well the results of war. Her husband committed suicide after returning from the war, leaving her and their young daughter alone. His family lays the blame at her feet, and she is doing the best she can on her own to make a good life for herself and her daughter. When Jacob returns, she if afraid of the feelings that she starts to develop for him, but knows that she cannot risk taking a chance on a man who might end up like her husband.
When a stranger from the past causes problems for Jacob, Laurel and her daughter, Jacob will stop at nothing to protect the family that has come to mean so much to him.
What I loved about Jacob and Laurel is that they both have demons that the need to over come, but it is Laurels daughter Bonnie that is the key to each of them having peace of mind. Bonnie helps her mother realize that Jacob is nothing like her husband. He is kind, he is thoughtful, he is willing to do anything, risk anything to keep Laurel and Bonnie safe. And for Jacob, Bonnie helps him heal and realized in his own way and in his own time that he truly is a hero, a hero in the eyes of the little girl that loves him.
An amazing addition to the Blessings series. I look forward to coming back to visit again.

Book Info:

Publication: Sourcebooks | October 4th 2016 by | Blessings, Georgia #3
Love heals in New York Times bestselling author Sharon Sala's newest contemporary romance
There is always hope
After eight years in the Marines, Jacob Lorde returns to Blessings, Georgia, with no plans other than to hole up in his empty house and heal what's left of his soul. But with a charming next door neighbor and a town full of friendly people, keeping to himself is easier said than done.
As long as you can come home
Laurel Payne understands far too well what Jake is going through, after witnessing her late husband experience similar problems. She's in no hurry to jump into another relationship with a complicated guy, but their attraction is undeniable-and perhaps exactly what both of them need.