In Saving Mercy (Fatal Truth #1) by Abbie Roads, Cain Killion's horrific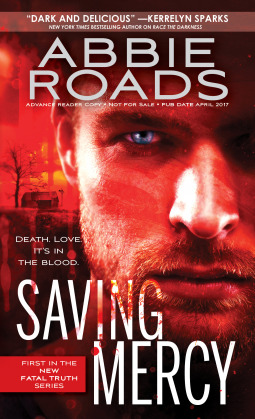 childhood is something he'd rather forget, but every time he works a case as a profiler for the FBI he's drawn back into that dark world of blood and death. The most recent murder scene he's investigating hits a little too close to home and so Cain sets off on the trail of a killer with possible ties to his past. And to a woman, Mercy Ledger, who endured trauma of her own as a child. He knows she may have some insight into the clue the killer left, although Cain isn't sure that meeting Mercy face to face will be a good idea. After all she's been through, he wants to be a positive force in her life–not a reminder of the trauma she's tried to push behind her.
'Life had been perpetually unfair to her. He ached for the pain she'd endured. The pain she still experienced.'
Mercy has been in mortal danger before and knows what suffering truly is. And to find herself yet again in a position to have to fight for her life is almost more than one woman can take. But she's not willing to stop fighting. And now with the appearance of Cain in Mercy's life, who is probably the only person on the planet who could understand her so well, she knows she finally has an ally. But as she finds herself falling more and more for Cain, Mercy also knows that their newfound relationship could be used to harm them. So she must decide if she's willing to let him be in harm's way or if this is a fight that she'll have to finish on her own, to make sure no one else she loves ever gets hurt again.
'No one else could ever understand her the way he did. And he needed her to show him he wasn't a monster, but a beautiful soul who'd survived some bad shit.'
Twisted and intense, dark and yet still hopeful, Saving Mercy was a romantic suspense novel that had me utterly captivated. Full of psychological drama and with even a bit of the paranormal thrown in, author Abbie Roads has outdone herself with this masterful tale.
'Blood did that to him, was a pleasure and a pain. A gift and a curse.'
Trigger warning: This story will likely be too much for some readers. It deals with gory murder scenes, just about every type of abuse there is, mind control, and torture. And blood. Lots and lots of references and scenes involving blood.
I can't even begin to tell you how much I love Abbie Roads' detailed, emotional writing style–or how much it messed with my mind! Not only did she create a complex story with intriguing plot twists, but she also created characters who were so real and flawed, who had such emotional depth, that as a reader I felt every emotion along with them. It's not often that an author can draw me so deeply into a book, but so far each one I've read by Roads has had that same effect.
I wasn't kidding when I said this was an intense, twisted story. There was a serial killer on the loose. A brave woman locked up unnecessarily in a mental ward. And our hero, actually an anti-hero, who survived a torturous childhood and decided to use his insight into a killer's mind to help the FBI solve crimes. And we got those three different POVs throughout the story: from Mercy, Cain, and the killer. I must say that once I got to the end and could see how everything happened, I just wanted to turn around and read it all over again to pick up the clues I didn't the first time around.
Our hero and heroine, Cain and Mercy, were truly tortured souls. Roads conveyed their feelings and thoughts so openly, in such an honest way, that it was easy to empathize with them right from the beginning. The romance that blossomed between Mercy and Cain was basically the bright spot, the lightness in the dark that was their journey. But I *loved* their connection. With the way their background intersected, it was a tangled relationship, but it was also one that ended up being so wonderfully tender that it melted my heart. I just thought Cain and Mercy both were such good, caring individuals who had been through things in their childhood that no one should ever have had to endure. And the fact that they were able to function at all as adults was a testament to their inner strength.
A haunting story about love, redemption, overcoming the past, and acceptance, Saving Mercy will stick with readers long after they've read it. And as this is just the beginning of the Fatal Truth series, I cannot wait to see what Roads has planned for us next!
Book Info:

Publication: Published April 4th 2017 | Sourcebooks Casablanca | Fatal Truth #1
First in a chilling new paranormal romantic suspense series from award-winning author Abbie Roads
He's found her at last
Cain Killion knows himself to be a damaged man, his only saving grace the extrasensory connection to blood that he uses to catch murderers. His latest case takes a macabre turn when he discovers a familiar and haunting symbol linking the crime to his own horrific past-and only one woman could know what it means.
Only to lose her to a nightmare
Mercy Ledger is brave, resilient, beautiful-and in terrible danger. The moment he sees Mercy, Cain knows he's the one who can save her. He also knows he's beyond redemption. But the lines between good and evil blur and the only thing clear to Cain and Mercy is that they belong together. Love is the antidote for blood-but is their bond strong enough to overcome the evil that stalks them?