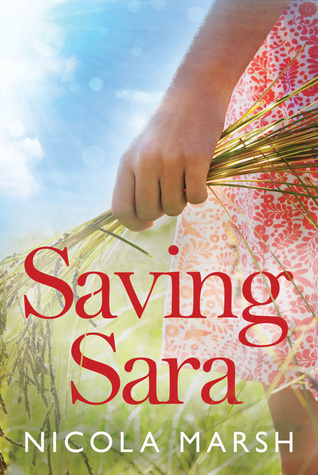 Saving Sara (Redemption Series) by Nicola Marsh  is the first book in the Redemption Series. It is a book about loss, guilt, forgiveness, family, and finding the strength to face your fears and allow yourself to love and be loved. Told from 3 different points of view, this book has the added bonus of 2 HEA's for the amazing characters in this book.
Sara Hardy has had the biggest loss that any woman can face. The death of her 3 year old daughter Lucy. Heart broken, she blames herself for not being there when her baby needed her. Her marriage that was already on the rock for years prior to Lucy's death is now over and Sara is looking to hide away from the pain in Redemption, Connecticut in the little cottage that her beloved Grandmother left for her. Not ready or sure that she will ever be able to face children again, find love or make something of herself, Sara is thrust back into the land of the living when a sweet little 6 year old boy named Olly shows up at the cottage one afternoon, worming his way into her heart and forcing Sara to face her fears.
Jake Mathieson has a lot on his plate, blaming himself for a plane crash that killed 89 people, he is forced to put his pain and self loathing aside when his sister calls asking him to take her 6 year old son Olly while she gets her life back on track. Not knowing what to do with the little boy, Jake calls the person that took care of him so long ago, the one person that he has not seen in 18 years for help, his Aunt Cilla, for help. Along the way he starts to fall and fall hard for Sara, but his past makes him feel unworthy of love and happiness.
Cilla lost her husband to suicide 20 years ago, she was abused, she was belittled and she was berated by him for the whole of her marriage. When he died, she not only lost him, but she lost her daughter, who blames her for not being strong enough to walk away from him, and she lost the beloved niece and nephew who were her rays of sunshine. When an old friend of her daughters shows up on her doorstep, flirting with her, and wanting to take her out, she is flattered, frightened, and confused. There is an 18 year age difference between Cilla and Bryce, he is her daughters first crush, what business does she have feeling something for a man so much younger than her.
As Jake, Cilla, and Sara work through fear and doubt, work on trusting and believing they they are worthy, they might just find that there is a pot of gold at the end of the rainbow and that peace, love and a forever kind of happiness can be found in Redemption.
I loved this story. Jake and Sara had a connection, shared pain and fears of unworthiness. Olly was a buffer for the two of them, allowing them to ease into a the relationship, to face their fears and learn to trust. Cilla and Bryce were adorable. I get that Cilla was worried that she would never be enough for Bryce, that he would find her wanting, but Bryce was willing to wait, to show Cilla that he has loved her for 17 years, and that he would do what it takes to convince her that his feelings for her were real and lasting.  When Cilla finally lets go of her past and her fears, the relationship between these two is so sweet.
An amazing feel good book that will make you feel an array of emotions and leaving you wanting to pull up a chair and sit down for a down home family meal. I look forward to Rose's story and more fun with little Olly.
Book Info:

Published August 1st 2016 | Lake Union Publishing | Redemption Series
When Sara Hardy inherits a cottage in the small town of Redemption, Connecticut, it is just the break she needs to draw a line under her past—to begin again, on her own.
Sara never thought she'd be starting over. She was married, successful, and the mother of a beautiful girl. But the life she thought was on the right path has taken a series of wrong turns…
Meanwhile Jake Mathieson has a lot on his plate. Still reeling from a tragedy for which he feels responsible, he finds himself unexpectedly caring for his six-year-old nephew. In desperation, he comes to Redemption to enlist the help of his Aunt Cilla, a widow with demons of her own.
Jake is intrigued by Cilla's cautious new neighbor. Like him, Sara is desperate to put the past behind her but not quite sure how to begin. Can Redemption offer either of them a second chance to find hope and happiness—perhaps even to take a risk on new love?