In Savor (Billionaire Bachelor's Club) by Monica Murphy, Former pro-baseball player and new winery owner Matthew DeLuca can barely concentrate every time his assistant Bryn James is near. He can see the beauty she hides beneath her drab clothing and behind her crisp, efficient manner. Bryn is a godsend with the upcoming grand reopening of DeLuca Winery and as the stress increases, so does Matt's attraction to her. Unable to fight it anymore, he makes his move to push their relationship from professional to personal. But will Bryn turn him down or does she feel the same way?
"I won't sleep with you, Matt," she says after she sets the glass on the table.
I'm shocked yet pleased at her boldness. "What I'm suggesting won't involve any sleeping, Bryn."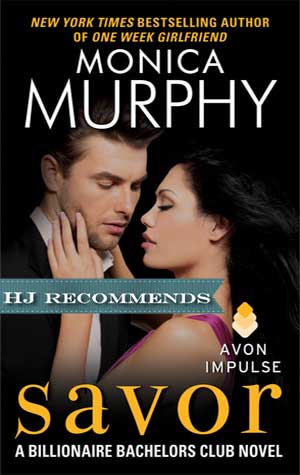 Texas born Bryn James moved to California to put her god-given assets to good use. She's always thought having a pretty face and curvy body was a curse, especially with the demeaning way men treat her. After deciding Hollywood wasn't worth it, she's now working for Matt at the new DeLuca Winery. He took over the failing company and allowed the employees to get back on their feet again. Bryn wishes she could stop hiding behind her neutral clothing and let her real self be seen, but she knows it would complicate things further. She already has a crush on Matt. When he begins giving hints that he may also feel the chemistry between them, Bryn struggles to decide if giving in to temptation is a good idea.
'Indulging in a heated affair with the man who signs my paychecks is not smart.'
Savor is the final book in Monica Murphy's Billionaire Bachelor's Club trilogy. It's been a sexy and enjoyable–but bumpy–ride while we've watched Archer, Gabe, and finally Matt find the ladies who have turned their lives upside down.
I really enjoyed getting to know Matt better and learn about his past. He seemed like the most laid-back and down-to-earth of the three friends, which turned out to be true. But he could also be intense when focused on a goal, whether it be to make his business a success or to get Bryn's attention. I got such a kick out of Matt's inner monologues, giving us a peek into his thoughts. They were funny, to the point, and he turned out to be pretty unforgiving of himself sometimes. Especially when his sleazy father began interfering with his life. I was proud of the way he handled his dad…even if he did goof up his personal life for a bit.
Bryn's struggle with her self-esteem issues is something that most of us can relate to easily enough. Maybe not the same exact issue as she had, but as women, our appearance can certainly mess with our minds. I thought it was nice that Monica wrote the dialogue to reflect the dichotomy of how naive Bryn was in some ways, yet how much she had been through as well with the wrong kind of male attention. It made her seem vulnerable and strong at the same time. And as much as I love that the story ended with their HEA, I wish there was an Epilogue to see how things were sorted out at the winery once they became an official couple.
Overall, Savor was a solid contemporary romance with some steamy moments and lots of drama. This was a nice way to end an intense yet entertaining series!
Book Info:

Published January 21st 2014 by Avon Impulse
New York Times bestselling author Monica Murphy concludes her sexy Billionaire Bachelors Club series with a fiery romance that refuses to be left at the office…
Bryn James can't take much more. Smart, sexy Matthew DeLuca is everything she wants in a man, but he's also her boss—the youngest, hottest vineyard owner in the Napa Valley—and he doesn't see her as anything more than his shy assistant. That's all about to change. Armed with a hot new look and an attitude to match, Bryn is determined to catch Matt's eye… professionalism be damned.
With his winery's grand reopening approaching, Matt is trying to stay focused, but Bryn is suddenly making it very difficult. He's always thought her prim demeanor effortlessly sexy, but Matt can't deny that her transformation is jaw-dropping …and going to make it very difficult to keep his hands to himself.
But when one thing leads to another and suddenly Matt is stripping Bryn bare, he'll be faced with the biggest risk of his career—and his heart. Can he convince her—and himself—that this might just be more than a no-strings office affair?