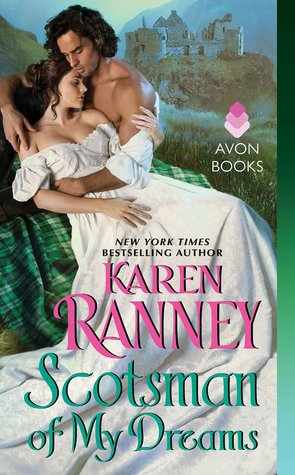 In Scotsman of My Dreams (MacIain #2) by Karen Ranney, Recuperating from his wounds is going to be difficult enough, but finding out that his older brother Arthur is gone and that he is now the Earl of Rathsmere, Dalton MacIain's troubles have compounded considerably. He also has Miss Minerva Todd now demanding the whereabouts of her brother Neville, who had traveled to America with him to fight in the Civil War. He may hope to never set eyes on the traitor again, but finds himself falling further under the spell of the beguiling Miss Todd every time they meet.
"…We're almost always quarreling."
"Is that what you consider it?"
"What do you think it is?"
He considered it foreplay, but he wasn't going to tell her that.
Upon hearing of the earl's return to London, Minerva tried every method possible to ask him where her brother is. When her latest plan brings her face to face with the infamous former rake, she is stunned by his handsomeness and by her attraction to him. Minerva is no shrinking violet; shunning society's expectations by becoming an archaeologist. But thankfully Dalton enjoys her uniqueness as well as her company. As they investigate her brother's disappearance, Minerva realizes how wrong she was about the earl as well as how easily she could fall in love with the damaged man.
'No, she was not going to be imprisoned by emotions. She was not going to become one of those foolish women who couldn't do anything except pine for their beloved.'
Scotsman of My Dreams was an intelligent, rousing historical romance that held me captivated the entire way through. With forward-thinking characters and a mysterious thread to the plot, Karen Ranney has given us something special with this novel.
This is my first time reading Ms. Ranney, and after Dalton and Minerva's wonderful tale, I assure you I will be reading many more. There was so much to enjoy here, but there were two prominent pieces that captured my attention: the eloquence of the writing and how different the characters were from my original assumptions when I began reading.
We find this story set in 1862, which is a bit later than the majority of historicals I tend to read. With Dalton having come home to London after fighting in the American Civil War, I thought it added a depth to both his character and to the story itself. Ms. Ranney was able to perfectly convey in a decidedly articulate manner what Dalton experienced while in America and upon his return. There was a dark edge to his emotions at the beginning, but once Minerva found her way into his life I was overjoyed to see Dalton begin to heal emotionally and physically.
Minerva and Dalton actually turned out to be very similar in character, in that they both pushed the limits of society while they remained loyal to their loved ones. I thought it was an extremely interesting choice that Minerva was an archaeologist who concentrated on Scotland. Of course Dalton was of Scottish heritage, so what better connection? They were definitely a combustible couple who loved to challenge each other verbally. Their dialogue was a lot of fun, with their witty bantering and fiery comments. But Dalton and Minerva did also have some wonderfully romantic moments that I felt smoothed out all the rough edges.
I truly hope historical romance readers enjoy the incredible chemistry between our hero and heroine as well as the intriguing plot that will keep you guessing who the culprit is. Definitely recommended.
Book Info:

August 25th 2015 | by Avon | MacIain #2
In New York Times bestselling author Karen Ranney's second novel in her breathtaking series, an unconventional woman and a former scoundrel embark on a daring mission of desire
Once the ton's most notorious rake, Dalton MacIain has returned from his expedition to America during the Civil War— wounded and a changed man. Instead of returning to his old haunts, he now spends his time at home. But Dalton's peace is disturbed when Minerva Todd barges into his London townhouse, insisting he help search for her missing brother Neville. Though Dalton would love to spend more time with the bewitching beauty, he has no interest in finding Neville, whom he blames for his injury.
Minerva has never met a more infuriating man than the Earl of Rathsmere, yet she is intrigued by the torrid rumors she has heard about him . . . and the fierce attraction pulling her toward him.
Dalton does not count on Minerva's persistence, or the desire she awakens in him, compelling him to discover her brother's fate. But when danger surrounds them, Dalton fears he will lose the tantalizing, thoroughly unpredictable woman he has come to love.