In Searching for Beautiful (Searching For #3) by Jennifer Probst, Genevieve MacKenzie has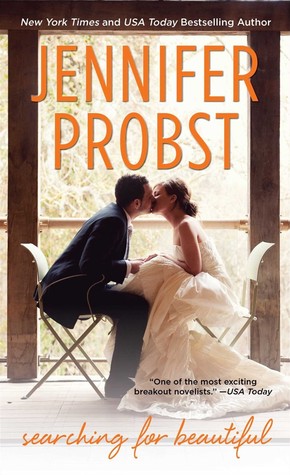 always been the stable, good girl in her family. She's on the fast track to become a surgeon and is engaged to the hospital's Chief, David. But as she paces in the church on her wedding day, something in her gut is telling her to run and not look back. When Gen's best friend Wolfe comes to her rescue as she literally jumps out the window to freedom, things begin to shift in their relationship. The chemistry that has been simmering between them is getting too strong to overlook. Would it be worth the risk to give in?
"Wolfe, maybe I'm wrong. Maybe I should go back."
"Do you want to marry him, Gen? Deep down, in your gut, where it counts?"
Her teeth sank into her lower lip. Shame and fear and humiliation etched out the lines of her face. Her voice broke on the word. "No."
Wolfe has known for a while that Gen hasn't been happy with David but he chalked it up to being jealous, missing his best friend. He accidentally intrudes on her escape from the church and gets his wish to spend some time with her as he helps Gen get away to make some decisions. But thanks to a drunken kiss a few nights later, Wolfe is no longer able to ignore the sparks of attraction. His friendship with Gen is one of the most important relationships in his life. He knows he's not good enough for someone so beautiful and perfect. His heart and his body have other ideas, though, as he falls hard and fast for Gen.
"Why am I feeling like this?" she whispered, clinging with a feminine strength he found sexy as hell. "What are you doing to me?"
"Don't know. Same thing you're doing to me." He stared at her mouth, so close, so moist. "I want to kiss you."
"Oh yes. Just this once. Yes."
Jennifer Probst keeps the magic going with this third romance in the Searching For series. When best friends Gen and Wolfe give in to the attraction between them, the sparks fly as all hell breaks loose in their lives.
Friends-to-lovers, for me, is always an interesting trope. Especially when the couple truly gets along as friends and they have created that wonderful foundation of trust first. Wolfe and Gen were exactly that couple. They were the absolute best of friends who had never considered trading in that friendship to see where their chemistry would take them. It took some extenuating circumstances before they would even think about the possibility.
I really liked the fact that Gen and Wolfe were so tormented about letting go of their current situation. It seemed completely realistic that they wouldn't want to lose the person with whom they were the most comfortable. It made sense, of course, that when they did finally let go and transitioned into romance, they were more than compatible in the bedroom. The scenes were racy, but were also heartfelt, and written in a way that made it clear how much Wolfe and Gen cared about each other.
I loved Gen and Wolfe together, actually. I thought they were cute, comical and were soul mates. Wolfe had a horrible, traumatic childhood which we learned about via flashback scenes. They were not easy scenes to read, but were important to the story, showing how far he had come in his life and why he was so unwilling to enter into a romantic relationship with Gen. She was everything to him. And vice versa. Wolfe was the only one she could truly count on to be flat out honest with her, and when she decided to leave her jerk of an ex-fiance at the alter, it felt right that Wolfe was the one to help her pick up the pieces. *happy sigh*
Touching moments. Hot as hell love scenes. Secrets revealed. This story had it all. This was a romance of epic proportions for two very deserving people. Whether you have already read the other two books in this series or not, I think Searching for Beautiful will make you a fan of Jennifer Probst.
Book Info:

Publication: May 26th 2015 | by Gallery Books | Searching For #3
The highly anticipated third novel in the Searching For series from Jennifer Probst, "one of the most exciting breakout novelists" (USA Today), featuring a runaway bride and the man who wants to be more than just her best friend…
Genevieve MacKenzie has her life completely under control. About to wed the charming Chief doctor at the local hospital, she's an up-and-coming surgeon with everything she could ever want. Until an escape through the church window on the day of her wedding sends her life into a tailspin…and flings her right into her best friend's arms.
When Wolfe catches his best friend falling out a window on her wedding day, he doesn't ask questions. He whisks her away, determined to watch over her and discover the truth behind her desperate escape. But when his feelings turn more than platonic, he realizes he may risk his most important relationship in order to protect his damaged heart, and the woman he loves.
Can Genevieve and Wolfe's friendship turn into something deeper—or is it already too late for true love?