Second Chance Season by Liora Blake: Cara seemed like she never quite fit into her family. She's never wanted to be a corporate or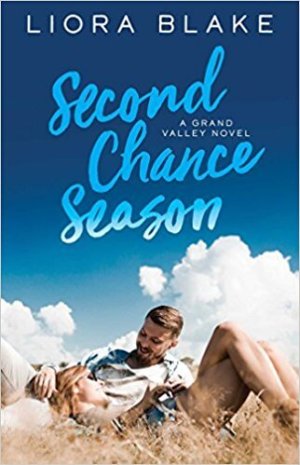 politician's wife, unlike her mom and sister. While she loves the shopping and spa days that come from growing up in a wealthy family, she also loves being a journalist. With her sister's upcoming wedding, it was time to make some changes and that includes a freelance writing opportunity complete with living in Colorado (temporarily).
Garrett was raised to never look back and it's become his motto. He's a strong, sexy, farmer-at-heart who just wants to be content with what he has instead of dreaming for something more. When he's not running the co-op, he's hunting, fishing, or helping out other local ranchers whenever they need an extra set of hands.
When it's clear that city-girl Cara is out of her element, Garrett happily steps in and offers his assistance. Both felt the attraction from their first meeting, but their lives and backgrounds are complete opposites. Cara is used to being independent, but she has to rely on Garrett to smooth her way and make introductions to the right people.
"I won't say that. But yeah. And it's a hybrid."
"God, you have to be kidding me," she sputters. "I'd like to know what is so wrong with a hybrid. I know it's a Lexus, I know it have out-of-state plates and I'm from the city, but how in the hell is the fact I'm conserving fuel that can now be used in tractors and combines somehow a bad thing?"
Cara is curious by nature and Garrett intrigues her on every level. The last thing either want to do is get involved romantically, but he's there for her at every turn and it isn't every day that a tall, attractive, and sassy woman lands on your doorstep in this small, agricultural community. They develop a quick friendship that turns into more than either expected as her time in Colorado ticks down.
"A change of clothes in your truck and a magical corkscrew in your pocket. Is there any situation you aren't prepared for?"
I leave the magical corkscrew comment alone.
"Redneck shenanigans, I told you. We're like Boy Scouts with beer and camo. Geared up for anything."
Second Chance Season is a fun, sexy opposites attract romance. Liora Blake balanced character development, romance, family, and friendships. Ms. Blake created diverse and entertaining cast of characters. Second Chance Season can be read as a standalone book in the series. Fans of Sex in the Sticks by Sawyer Bennett and Laura Drewry will enjoy Second Chance Season.
Book Info:

Publication: May 30th 2017 | Pocket Books | Grand Valley #2
Return to Liora Blake's Grand Valley series with Second Chance Season, in which an avowed country boy meets an ambitious city girl who reminds him why dreaming big and taking a chance is worth the risk.
Garrett Strickland is unapologetically country, fiercely loyal, and all about living in the present and not dwelling in the past—even if he was once on his way to a lofty agricultural sciences degree that would guarantee the brightest of futures, only to end up back home when his old man died, leaving behind a debt-ridden family farm that was impossible to keep afloat. After that, it was easy to see why dreaming big wasn't worth the heartache of losing everything. And until he crosses paths with a city girl who's hell-bent on kick-starting her own future, he's sure that good enough is just that.
Cara Cavanaugh is ready for more from life, even if that means changing everything; including dumping her longtime boyfriend, turning down a lucrative job at a major newspaper, and leaving behind the upscale suburbs of Chicago where she grew up. Now, she just has to pray that temporarily relocating to the middle of nowhere in Colorado will be the first step in building a career as a freelance writer—all she has to do is prove she's got what it takes to make a name for herself. Unfortunately, her tony country day school is as close to country as she's ever been. But when a goodhearted guy who looks like he just stumbled out of a country music video offers to help, she ends up falling hard…and discovering that the perfect story, as it turns out, is a love story. And it's theirs.
Second Chance Season, book two in the Grand Valley series, is a charming, feel-good romance, perfect for fans of Jennifer Probst and Kristan Higgins