Secret Pleasure by Lora Leigh is part of the Bound Hearts series and comes in at number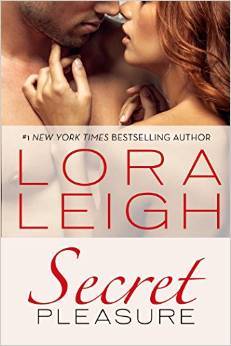 thirteen. You don't need to read the previous twelve books in order to read this one, though. Secret Pleasure revolves around Alyssa and Sebastian and Shane, who she refers to as her goof and her cowboy. Be prepared for passionate characters, hot sex, and a pleasure so intense, you'll wonder if you will survive it.
From the moment the two cousins meet Alyssa, they know she's the one for them. No one actually anticipates what that exactly means until Alyssa is in danger. Turns out they are soul-bonded. I found that part the story very intriguing. They feel the emotions Alyssa goes through…the pain, despair, and loss but a lot of those feelings are inadvertently caused by them. Alyssa was an eighteen-year-old virgin when they first got together. She's very intelligent with a good head on her shoulders and when Sebastian and Shane set out to seduce her, there's no fighting it. When they are together the pleasure outweighs all the bad and nothing else matters.
There's a lot of angst in this story. Alyssa goes through a hell of a lot of pain and turmoil. People will try to kill her, her men leave her because it's for her own good, and then someone kills her baby. It's a lot to take in for one character and Alyssa barely survives it all. When Sebastian and Shane come back for her she's not the same carefree, fiery woman they first met and they have a lot of work ahead of them to repair the damage to their relationship. It's one of those books that will have you biting your nails as you turn the page.
I'm a huge fan of this author and I understand that she has a massive amount of published books, but my one of my issues with the story had to do with the naming of the characters. I've read every book in this series and remember them fondly. That being said, in a previous book she had the main character named Lucian and in this story there is a brother named Lucien and then you have the main character of this story named Shane and there's a Shayne in the previous book. I got confused when I first read through the book, trying to see if these were the same people from the previous books. They are totally different characters just with similar names. The other issue I had with this story is the time jumps. There were many. Even with those two issues, this was still an enjoyable read that I would read over again.
If you enjoy strong romances that aren't necessarily conventional and are loaded with emotional scenes, page-turning suspense, and enticing characters, this is the book for you.
Book Info:

Publication: August 18th 2015 | St. Martin's Griffin | Bound Hearts #13
Once a member of the Sinclair men's club as their honorary female member, Alyssa Hampstead broke one of the most important rules of the club and gracefully accepted Ian Sinclair's request to leave.
For a reason.
Now, caught between two men she's terrified of, and a father determined to destroy her, she turns to the only safety she's ever known, that of the men's club she forced herself to walk away from.
Only to learn that the very men she's running from are awaiting for her there. And the man determined to destroy her, has just been waiting for her to return