Seduce Me by Jo Leigh: Natalie Gellar is truly a delightful woman to read about. She loves her job as a film librarian, archivist, and tour guide. In addition, her excitement as it relates to old films is contagious. She has finally decided that it is time to settle down and find the love of her life. Although Natalie is kind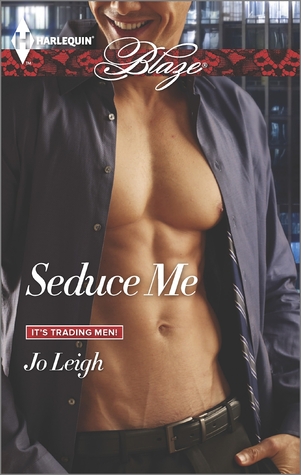 of shy and introverted, she handles situations that may be uncomfortable and difficult with the utmost grace.
The newest dating craze in New York City is finding someone through trading cards, and that is how Natalie picks librarian Max Zimms, from the multiple decks on the table. Due to a printer's error, the man Natalie believes to be Max Zimms is actually Max Dorset, a hotshot attorney finally coming into his own professionally. They hit it off immediately and spend a fabulous night together. Unfortunately, Max is not looking for a wife and he is in the process of making a huge career decision which will result in a nonexistent personal life. As Max is on vacation while being wined and dined by the biggest law firms in the city, he and Natalie are able to spend a lot of time together.
Over a two week period, Natalie and Max fall for each other. They burn up the sheets every chance they get. Thanks to Natalie's love, Max comes to realize that there is more to life then just work and they embark on a future together.
As much as I enjoyed this story, I found the pace to be quite slow. Natalie and Max are great together, and I liked how Ms. Leigh developed their relationship. When Natalie and Max are together, their passion is ignitable. Overall, a predictable read with some spice and endearing characters.
Book Info:

Published April 15th 2014 by Harlequin Blaze Series #796
Trading Card: Max Dorset
Occupation: Lawyer…professional shark
Secret Passion: Good girls with a naughty side!
It's archivist/movie-buff Natalie Gellar's very first Hot Guys Trading Card event. And boy, did she luck out. She found a quiet—and smokin' hot!—librarian looking for marriage. Unfortunately, there was a tiny mix-up at the printer…and aside from the sexy pic, Natalie's perfect man is everything she doesn't want!
Max Dorset is a damn good lawyer who has no time for anything that isn't work. Marriage and relationships? No, thanks. But he offers Natalie a tantalizing temptation. Because even if he isn't her Mr. Right…he might just be her perfect Mr. Tonight!