In Seduced by Sunday (The Weekday Brides #6 by Catherine Bybee, Margaret "Meg"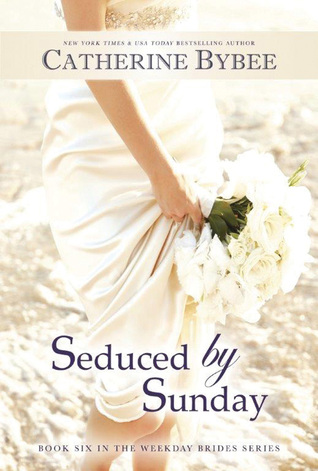 Rosenthal had to jump through hoops to get accepted onto a private island resort, Sapore di Amore, thanks to the owner's snobby attitude. She may not be famous like her friend and holiday companion, movie star Michael Wolfe, but Meg works for an elite matchmaking company called Alliance. Even when she meets owner Valentino Masini and realizes how gorgeous he is, she still forces herself to treat this as a work project while she scopes out the privacy touted on the island. But as Meg finds herself reluctantly falling for Val, her safety is threatened and sends her on a wild goose chase across the globe to track down the truth.
"Cara…" He ran his hand down the side of her face and placed a feathered touch down her neck. "Bella, let me love you." His accent thickened as his voice dropped with his request.
Had anyone ever made love to her with words? Only Val.
Valentino is shocked to see the stunning beauty on the arm of Michael Wolfe after their correspondence. Margaret may be a bit sassy, but she's also sexy enough to drive him to distraction. Running the island resort and looking after his mother and his sister, Gabi, has been his focus for years. Would it be so bad to find some time for pleasure in his busy life? But before Val can really answer that question, the security of his guest and his family is compromised. He will do anything it takes to keep them safe. Especially Meg, who is quickly becoming someone he can't see himself without in his daily life.
"I met you on a Monday, you enchanted me by Wednesday, and seduced me by Sunday. You've stolen my heart, Margaret… Ti amo, bella."
Drama, romance, HEAs (notice that was plural?!) and a secluded tropical island. Seduced by Sunday had all that and much, much more. This was a stellar tale that I didn't want to ever end.
How can this series keep getting better and better? I seriously could not put this book down and may or may not have gotten grumpy whenever I was interrupted. *hangs head in shame* I love that in each of her books, Catherine Bybee not only gives us a heartfelt love story, but there is also an edge of suspense or mystery. In Meg's case, there was both a mystery to solve, along with heart-pounding action. There are many scenes I enjoyed reading, but the 'final showdown' toward the end was worthy of any big name action flick out there. It kept my attention, that's for sure!
I think my favorite thing about this story, aside from the involved plotline, was the characters themselves. They were all genuine. And the way they interacted seemed realistic, even given that they were able to jet-set around the globe and had powerful people at their beck and call. Take movie star Michael for example: I adored him when we 'met' him previously, and it was nice to get more interaction with him here. He turned out to be a big part of the plot and was just as much of a sweetheart as he was before.
Meg and Valentino were such a wonderful couple. She was sassy and bold while he was uptight, but still had a definite sensual side. When they were together…wow. I thought it was interesting that there was a bit of friction between Val and Meg at first with their initial introduction while she was trying to get approved onto the island. But once they met, it was obvious there was an intense attraction brewing. The way Val spoke to Meg in Italian was quite honestly bonemeltingly hot. I have to say that their HEA was so darn sweet that it made me sigh very happily.
Whether you have read the other books in The Weekday Brides series or not, you can read Meg and Valentino's journey to romance with no problem. But I still highly recommend reading the rest of the series anyway. It's that good!
Book Info:

Publication: April 14th 2015 by Montlake Romance | Weekday Brides Series, #6
She swore off love forever…but he just might change her mind.
The sixth sweet, thrilling book in the New York Times, USA Today, and Wall Street Journal bestselling Weekday Brides series from Catherine Bybee.
Meg Rosenthal: Matchmaker by day, realist by night, Meg is not about to get swept away by a charming, darkly handsome businessman in a designer suit. She's come to a beautiful secluded resort to evaluate the private island's potential for her agency, not to ogle its owner. But there's something about the magnetic man that's hard to resist, even for a woman who refuses to fall in love.
Valentino Masini: A successful and drop-dead sexy businessman, Valentino is used to having the finer things in life. Yet he's never wanted someone the way he wants Meg, who's stirring up a hurricane of trouble in his heart. But just as he decides to convince her to stay, someone else decides it might be time to get Meg off the island…permanently.