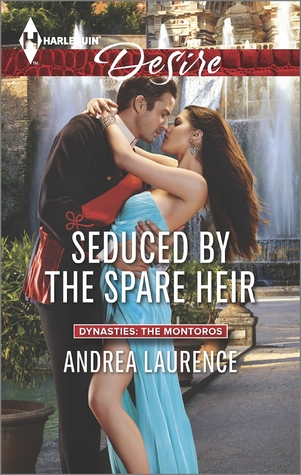 Seduced by the Spare Heir by Andrea Laurence: Could it be true? Can you really trust no one? Or is it more accurate to say once you've been burned you will trust no one?
Serafia Espina was once a household name, especially those households with males in them. She had been a supermodel and still looked amazing after a health scare took her off the radar for a while. Her family had also grown up friends and vacation partners with the Montoro family and she, while a few years older, had been a star in Gabriel's dreams when they were younger and if he was honest, still a few today.
Gabriel Montoro was the spare heir. His family had once been royalty in his home country before the dictatorship forced them to flee for America. So the Montoro's had built a enterprise and were doing incredibly well. Gabriel was even the SVP of the South American Division. However everything changed with the dictatorship being overthrown and the royal family being welcomed back, then surprise his elder brother was giving up the thrown which meant Gabriel would be King.
Gabriel and Serafia didn't realize how much they were going to need each other or how much their country needed them. They both had some major trust issues though and being forced into the spotlight with the press was not making anything easy. Would they be able to trust each other enough to make it through or would this fairy tale story not have a happy ending?
This is the third story in the Montoro series and while it does help to have read the others this can be easily read as a stand alone novel. Ms. Laurence has picked up where the others have left off and continued to give great depth in descriptions, particularly the surroundings. She really makes you feel like you are there, seeing what they are seeing. The plot though light has a good weaving that has you almost but not quite sure of what is coming next. Pick this up for a quick trip overseas that will have your heart smiling.

Book Info:

 July 7th 2015 | Harlequin | Dynasties: The Montoros #3
Going from black sheep to king, with the help of one very special woman…
Gabriel Montoro's worst nightmares are realized when his older brother abdicates the throne of Alma, leaving fun-loving playboy Gabe next in line. Now he needs to shape up—fast. That's where Serafia Espina fits in.
The exquisite ex-supermodel can school him in the social niceties. But as they get into the royal routine, Gabe begins to see this old family friend in a very different light. Soon the protocols are out the window, and Serafia is sharing his bed. But is this angel hiding something that could threaten what they've begun?