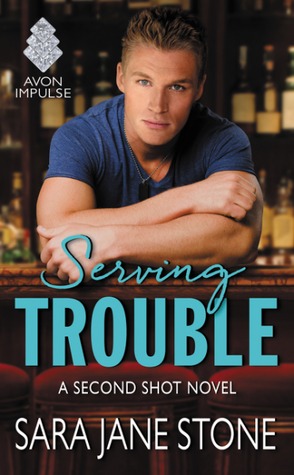 In Serving Trouble by Sara Jane Stone, Josie Fairmore is back in her hometown desperate for a job. She needs money to pay down her debt and the only person she can turn to is Noah Tager. Noah is a former Marine who has his own issues to deal with but when Josie turns up asking for help, he can't turn her way.
Josie and Noah share a history. Noah is best friends with her brother and one night before Noah left for basic training, they shared a night of passion that left an imprint on both of their hearts. Noah is doing his best to not touch Josie, but the longer she's around, the harder it is to resist her.
"Because no matter how much I want to touch you, I'm terrified one kiss, one wild night, will damage what's left of my heart."
Josie knows she needs to guard her heart against Noah but the attraction proves to be too much. I really enjoyed both characters. Josie is a strong woman who's lost a lot but continues to move forward. The reason why she's in debt is definitely heartbreaking but her struggle only proves how much inner strength she has. Noah is certainly hero material. He gave Josie a job when she needed it, even though he knew it was going to be too much temptation to have her close by. Both characters have their own flaws, which make them realistic, but it's their strengths and passion that really pulls you into their story.
Serving Trouble is filled with intense moments that will leave you turning the pages to find out what resolution awaits our characters. The story is well-written with developed characters who will keep you entertained from the very first page. If you love the best friend's sister trope or love a man in uniform, this book is a perfect fit!
Book Info:

 March 8th 2016 | Avon Impulse | Second Shot #1
Five years ago, Josie Fairmore left timber country in search of a bright future. Now she's back home with a mountain of debt and reeling from a loss that haunts her. Desperate for a job, she turns to the one man she wishes she could avoid. The man who rocked her world one wild night and then walked right out of it.
Former Marine Noah Tager is managing his dad's bar and holding tight to the feeling that his time overseas led to failure. The members of his small town think he's a war hero, but after everything he's witnessed, Noah doesn't want a pat on the back. The only thing he desires is a second chance with his best friend's little sister.
Josie's determined to hold onto her heart and not repeat her mistakes, but when danger arrives on Noah's doorstep and takes aim at Josie, they just might discover that sometimes love is worth the risk.