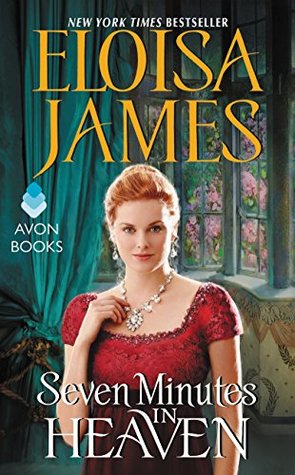 In Seven Minutes in Heaven (Desperate Duchesses by the Numbers #3) by Eloisa James, In the course of a few weeks, Edward Reeve has learned that he has two half-siblings, Otis and Lizzie, has given up his position at the university, and has had to hire a governess. Although his life is a jumbled mess at the moment, he's come to adore his younger siblings. Even his brother's pet rat, Jarvis. If only they could find a governess who will be able to handle the childrens' idiosyncrasies. So when Ward becomes enamored with the charming Mrs. Eugenia Snowe when he visits her agency, he decides he will find a way to spend time with her, whether it is her as a governess for the children, or as his lover. Although surprisingly his heart soon wishes to make her a permanent part of all of their lives–as his wife.
He gave her a wicked grin. "But I have always wanted to kidnap a woman."
A startled laugh broke from Eugenia's lips. "Really?"
He nodded solemnly. "Truly. Dash off into the night–"
"Afternoon," she corrected.
"Into the afternoon–with a beautiful, witty woman, a bottle of white wine, and a cold roast chicken."
Since becoming a widow seven years ago, Eugenia Snowe has become quite the businesswoman. Her agency hires out governesses to households in need of assistance and has a stellar reputation. She's never had a problem matching the appropriate governess to a given situation before until dashing Ward barrels into Eugenia's office. It seems his, ahem, spirited half-siblings require someone more tenacious. After his attempts to lure her into taking the job herself, she's shocked that he resorts to kidnapping her to get her to his estate. But once there, Eugenia is captivated by his young half-siblings and finds herself falling for the handsome inventor as well.
'How could she have forgotten that love was the most important thing of all? She, who had learned far too young that one cruel moment could snatch away love forever?'
Seven Minutes in Heaven was an absolutely deliciously witty and delightful historical romance, as you would expect from Eloisa James. A new spin on a kidnapping trope, this had me equally in stitches with laughter and sighing from the steamy passion between our hero and heroine.
As a fan of historical romance, I've come to adore Eloisa James' writing. From her interesting storylines to the well-developed characters and of course the comical bantering, there's a lot to keep a reader's attention. And the duo we had in Seven Minutes in Heaven was such a fun pairing. I loved that our widowed heroine Eugenia was mature and had some life experience to give her confidence in her decisions and actions. She was smart as a whip, with a good head on her shoulders. But watching her step out of her comfort zone and enter into what initially began as a purely physical relationship with Ward was great. And I found that Eugenia's habit of comparing Ward to her deceased husband, whom she had loved dearly, felt real to me. I liked that she realized that her growing relationship with Ward was quite different than her marriage had been and that it was okay to finally move on after seven years of widowhood.
I grew to really love Ward–even though he made a few blunders along the way. He was an inventor and had a nice sense of loyalty to his friends and family that I found endearing. Especially when it came to his previously unknown half-siblings, Otis and Lizzie, who were an absolute hoot to get to know. He took them in and made huge changes in his life simply because it was the right thing to do. How can you not love a guy who's willing to do that? Ward was also a very sensual man, which came across clearly, especially when he kidnapped/seduced Eugenia. What a fun scene that was! I did get a wee bit frustrated with the miscommunication between Ward and Eugenia by the end of the story but I think overall it made things more exciting *and* it forced him to make a grand gesture that fit them perfectly as a couple. *sigh*
I enjoyed every single second I spent reading Seven Minutes in Heaven. Full of lively characters that were unique and totally memorable, including a pet rat named Jarvis, I highly recommend this to any fan of historical romance.
Book Info:

 Expected publication: January 31st 2017 | by Avon | Desperate Duchesses by the Numbers #3
Witty and elusive Eugenia Snowe has all society begging for one of her premiere governesses-except the powerful Edward Reeve, who bursts into her office with his arrogant demands.
No question that Eugenia enjoys crossing wits with the brilliant inventor, but Ward wants far more than a governess. He wants Eugenia, and he'll stop at nothing to have her-including kidnapping.
Will Eugenia lose her heart in the most reckless gamble of her life, or will she discover the sweetest pleasure she's ever known?
All it will take is seven minutes…