Sex Says by Max Monroe: The mysterious author team known as Max Monroe burst onto the romance scene in 2016 with their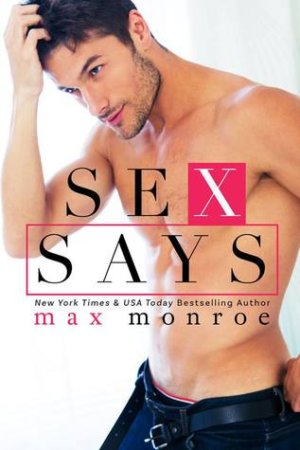 ridiculously funny and unapologetically crude Billionaire Bad Boys series. Readers seem to either love their books or just can't quite connect with them, and I am definitely a lover all things Max Monroe. I've never laugh so hard as I do when I read their stories, and I was ecstatic when they announced they'd be writing more together.
Sex Says is a stand-alone book that tells the tale of a quirky sex and dating columnist who meets her match in an unconventional bad boy. Sex Says is toned down slightly as compared to the Billionaire Bad Boys series – the humor is more reserved, there are no billionaires, and there's a little less sex – but it's most definitely written with Max's take-no-prisoners style making it stand out in the diluted sea of contemporary romance.
Lola Sexton beats to the rhythm of her own drum and lives life to the fullest. She doesn't care what people think of her, dresses eccentrically, uses a pink bike named Daisy as her primary mode of transportation and isn't looking for the conventional two kids and white picket fence life. She's a successful columnist for the San Francisco Times dishing out her unique brand of dating and sex advice; it's cheekily called Sex Says to play off her last name. All things in Lola's life are well and good until her philosophies are publically challenged by some guy named Reed Luca.
Reed lives his life outside the stereotypical normal – he doesn't have a cell phone! Seriously. He doesn't have a cell phone, because he'd rather be in the moment and be conscious of the things going on around him. He's an observer of people and loves trying to read them. He's a college graduate but isn't looking for a typical career. He'd rather choose jobs that truly interest him rather than walking numbly into the same office every day like a zombie, and he works hard but changes jobs frequently. He also spent much of his youth and his twenties testing laws which resulted in frequent confrontations with the police. (No worries – he wasn't doing anything that bad!)
He reads one of Lola's columns and thinks she is dishing out crap; therefore, he creates a YouTube editorial on a whim to publically challenge her. He never thought the video would be seen, but it explodes on social media making him Lola's #1 enemy. He even gets offered a gig to write his own opposing view column in a competitor's newspaper. Lola isn't one to take things lying down, and she seeks Reed out to tell him what she thinks. Hilarious emails are exchanged before the two actually meet, and when they do come face to face, the sparks between them ignite into full on lust. Both are surprised to be so attracted to their adversary.
Reed is intrigued and fiercely attracted to the fiery columnist and most definitely wants more than just to argue with her – although that is certainly fun for him too. Reed drives Lola nuts in the I-hate-you but I-want-you kind of way. He sets out to get to know her and get under her skin, but he never plans to woo her. Allow me tell you – he most definitely starts to woo her in Reed Luca's sexy and subtle style. You'd never expect a bad boy like Reed to have a sweet and sensitive side – he's even surprised he does – but Lola brings out the softer and more vulnerable Reed. He might drive Lola insane, but she can't get enough of him and the two are soon not only tangled in San Francisco's biggest newspapers but also in bed.
Reed and Lola are both engaging and charismatic characters, and they are both refreshingly different. These two aren't cookie cutter romance novel hero and heroine – even their names are awesome – and they are what give Sex Says such a fun and unique feel. I want to hang out and be Lola's friend, and I really want to be Reed's girlfriend. (Sorry, Husband.) Their verbal sparring is mesmerizing and some of the best foreplay I have ever read. You'll be thinking about these two and their story long after you've finished reading, and you'll definitely put Sex Says on your read-again-soon shelf. Don't miss Sex Says by the brilliant, dynamic co-authors known as Max Monroe.
Book Info:

 2/21/17 | Self-Published – Max Monroe |
Lola
My name is Lola Sexton, and I'm a sex addict.
Okay…that's a lie.
Truth is, I'm a serial dater turned dating and relationship columnist for The San Francisco Times. My readers call me Sex. Sex Says.
I love my job.
I love my life.
And I hate Reed Luca.
**
Reed
My name is Reed Luca, and I'm a liar.
Ironically, that's the truth.
I'm 31, and my occupation is…well, complicated.
My favorite kind of woman comes in all shapes and sizes, but always has a big brain.
I've never hated anything.
Lola Sexton hates me.
Luckily, it's a thin line between love and hate, and with my help, pretty Lola will only be able to straddle that line for so long.