Sexy Lies and Rock & Roll by Sawyer Bennett: Emma is really smart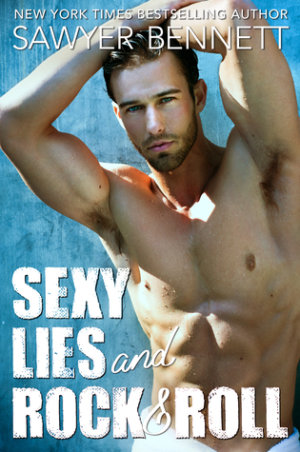 and loves the law, but she's hoping to one day escape from the prestigious law firm where she's working with her dad to finally work on contract law. She prefers a quieter environment and keeping her nose stuck in a book rather than dealing with clients and arguing cases.
Evan seemingly became famous overnight. He's the latest YouTube sensation and about to embark on his first tour. While he doesn't sing for the money or the fame, he loves to perform and create his own music. With his more sudden rise, he's also struggling to deal with all of the other aspects of being a rock star.
Evan isn't thrilled when it's Emma who shows up to bail him out of his potential legal trouble. But the buttoned-up, straitlaced Emma certainly made quite the impression on him. They butted heads and Evan uses his on-going legal issues to compel Emma to work for him despite all of her objections.
"I'm not qualified," I snap back at him, still feeling completely out of sorts by all of this. "So in case I'm not making myself clear, I'm not interested."
"And if Midge insists?" he asks me slyly.
A wave of furious heat washes through me, and I grit my teeth. "You're seriously going to pull the aunt card on me…just to get what you want?"
Evan throws Emma's carefully crafted world into a tailspin. She suddenly finds herself on the road with the sexy, charming musician along with her dog Sirius. She doesn't know what to expect from him, but she can't help being attracted to him. She's determined to remain professional even though Evan is just as determined to have them cross that line. They get a chance to better know each other while working and living together on the tour bus. Emma provides him with the only thing that is so impossible to come by in his world – an honest opinion.
"We took Sirius for his afternoon walk," I explain, and Evan's eyes drop down to the pup who is sitting down perfectly.
"Why's he wearing my socks?" Evan asks, his brows furrowed together.
"To protect his feet," I say simply.
When he looks back up at me, he's shaking his head in amusement. "You owe me new socks."
Sexy Lies and Rock & Roll is sexy, entertaining, and had me hooked from the first chapter. Sawyer Bennett created engaging characters who had great chemistry and banter while challenging each other. Ms. Bennett interesting secondary characters in their families and friends. Fans of Wanderlust by Roni Loren, Erika Kelly, and Stephanie Julian will enjoy Sexy Lies and Rock & Roll.

Book Info:

Publication: Published November 14th 2016 | Big Dog Books, LLC |
From New York Times Bestselling author, Sawyer Bennett, comes a SEXY new stand alone romance…
When you're a rock god, fame and fortune are your two best friends, but they can be fickle bed mates. It seems everyone wants a piece of me. I'm being sued, pressured to sign contracts, and fending off rabid women who want to steal my virtue. Just kidding on that one. We all know I don't have much virtue left.
That's why I need Emma Peterson. The sharp-as-a-tack and sexy-as-sin lawyer saved my ass before and I know she can do it again. The only problem is that sweet, prim and totally straight-laced Emma doesn't want anything to do with me. Not professionally, and certainly not personally.
But c'mon. Everyone wants me, and even though it would take a crow bar of epic proportions to get her to spread those sexy legs for me, all I want is her mind. I swear. Her beautiful, brilliant mind to make sense of my crazy world. Good thing I have something up my sleeve to get her to say "yes". Some might call it blackmail. I call it something else.
Looks like Emma Peterson just became my biggest defender. If only I can resist wanting to screw my attorney six ways to Sunday.
*Sexy Lies and Rock & Roll is a hot, romantic comedy stand alone.