In Shadow Reaper (Shadow #2) by Christine Feehan, Shadow rider Ricco Ferraro appears to be an open book. He lives his life always in the public eye,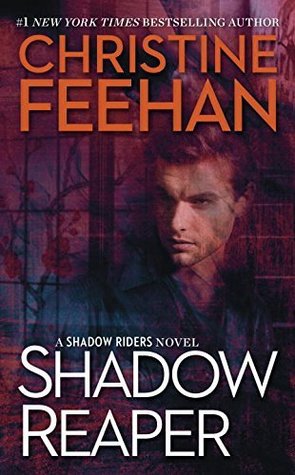 has a penchant for fast cars and lots of women, but he's actually been hiding a horrific past. His main focus since his tragic time training in Japan as a teenager has been keeping his beloved family safe. Since then Ricco has been able to center himself by practicing the art of Shibari, becoming a rope master. And his search for a rope model brings lovely Mariko into his life, whom he immediately knows is his soul mate. Even before their shadows connect.
"You let me tie you up. You're a shadow rider. Control is everything. I can't imagine how difficult that was for you." He didn't try to keep the admiration from his voice. To him, that moment had been such a humbling gift. He would treasure her surrender for his entire life.
In need of a place to lay low, Mariko agrees to stay with Ricco and become his model. She's unsure what to think of the sexy, intimidating Ferraro brother, but can somehow tell he won't harm her in any way. And after a lifetime of abuse, Mariko is worried things are too good to be true. But as she and Ricco connect and they finally find something to give them hope of a happy future, the events that changed his life years ago come back to haunt him. With his family and his woman under attack, he'll do anything it takes to get rid of their enemies, not knowing it will change all of their lives forever.
'It was his gentleness that undid her, the tender look on his face. She didn't know what to do with love. She'd never had it, had never known that feeling could be so overwhelming.'
Dark and sensual, Shadow Reaper was a twisting, turning, action-packed story that tore my heart apart and pieced it back together again in a way that only Christine Feehan could accomplish.
Trigger warning: Consensual bondage, mention of rape, torture, emotional, physical and verbal abuse, murder, suicide.
Shadow is easily becoming my favorite series by Christine Feehan. And that's going some, because I'm already a fan of her GhostWalker, Leopard People, Sisters of the Heart, and Dark series. But between the cool premise of shadow riders meting out justice and the tight-knit Ferraro family itself, I just can't get enough of these stories. I do have to say that Shadow Reaper surprised me–in a good way. I was not expecting Ricco Ferraro to be the artistic, emotional, and at times gentle, man he was. From meeting him in book one, Shadow Rider, which was older brother Stefano and Francesca's romance, I figured Ricco would be arrogant and a total player. He definitely had his moments and a sketchy past when it came to women, but I loved that he knew he needed to settle down and find the woman meant for him, to help ground and center him. And he certainly found that in Mariko.
Ricco and Mariko's pasts absolutely shattered my heart. I can't get into details as it would unravel the whole plot, but suffice it to say that they were both very damaged individuals who had somehow risen above the darkness they endured. The flashback scenes as they reveal their backgrounds are intense, gritty, horrific, and won't be easy for some readers. But I was impressed with Feehan's ability to tell such a dark story and yet also convey the sweet, loving connection that was built between Mariko and Ricco. I loved that the practice of Shibari rope-tying was a way for them to begin to trust each other and I felt like that was where their true emotions really came out. It seemed to fit their personalities.
Mariko herself was such a wonderful woman. She endured heartbreak, loss, shame, abuse, and still turned out to be a fantastic shadow rider and a compassionate person somehow. She was simply a kickass heroine and I got a chuckle out of how Ricco and his cousins were in awe of her fighting abilities. Mariko and Ricco made a great couple and although they could have used some more communication about their feelings I thought they were perfect together. Watching them interact with the huge Ferraro family was especially entertaining. And I have to mention that we got to learn more about the Ferraro's this time, seeing things through multiple POVs which was fantastic.
Surprises galore, hidden enemies, and complex family connections, Shadow Reaper held me in its thrall from page one. It might not be for the faint of heart–it's extremely dark and tragic in places–but this was one story worth every emotional high and low.

Book Info:

Publication: Published May 30th 2017 | Jove | Shadow #2
#1 New York Times bestselling author Christine Feehan continues her sexy new series, as the Ferraros—a Chicago crime family—use their power as shadow riders to protect their empire and the ones they love…
Billionaire playboy Ricco Ferraro knows no other life. Being a shadow rider is in his blood – but so is a haunting desperation stemming from the secrets of his dark past. His recklessness puts not only his life at risk, but also the future of his entire family. To save them all, he must find a woman who can meet his every desire with a heat all her own…
Just when Ricco has given up hope, he meets her – a mysterious woman whose shadow connects with his. She's someone looking for a safe haven from the danger that has stalked her over the last several months. In Ricco's embrace, she finds one. But the darkness in which they so often find sanctuary can also consume them…