In Shadow Rider (Shadow #1) by Christine Feehan Francesca Cappello has moved to Chicago in hopes of laying low. Attracting the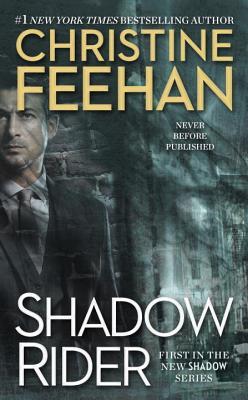 attention of the powerful and handsome Stefano Ferraro; a man that captures attention wherever he goes is not ideal, but there's something about him that draws Francesca to him. Can he keep her safe when he learns her secret?
"Why would that man get so angry because I didn't have a coat?"
Joanna looked confused. "I have no idea. I just know it's super cool that you attracted his attention. I've been around for years, since I was a little girl, and they all know my name and they know me, but they've never taken that kind of interest in me."
Francesca clenched her teeth. "Why would that be?" Already knowing the answer and not liking it.
"We don't run in the same social circles. That family is total celebrity. Everyone knows them."
Ever since reading my first book by Ms. Feehan, I've read every book she's released, and yet again she hasn't disappointed her readers with this first book in a new series for her. Right from the beginning, the hero drew me into the story with his commanding presence and his world of being a shadow rider. It seems being a shadow rider is a bit lonely, even though his family is just like him.
I really liked both the main characters as well as the secondary ones. Stefano and his siblings are a tight-knit bunch and would do anything for each other, no matter what is asked of them. I liked that they were all willing to help Francesca face her past instead of allowing her to continue to run from it because her sister deserved justice.
The dialogue was intense due to the main characters back stories, especially that of the heroine. She's trying to stay one step ahead of the bad men after her and it's lucky that she meets Stefano; a man that can finally help her. However, there were also some light-hearted moments throughout this story that made me smile. Stefano's family definitely love to tease each other, and aren't afraid to unleash their teasing on Francesca and her friend, Joanna.
"Hey Emilio. Enzo," Joanna greeted. "Out for a stroll again tonight?"
"Got orders, Jo," Enzo said. "You two troublemakers decide you're going to rob the jewelry shop, we've got orders to stop you."
"So not fair! I've had my eye on a diamond bracelet," Joanna declared.
"Sorry, girl. You're going to have to give up that particular dream," he said.
Francesca is strong, brave and I liked that how she fit in with the Ferraro family. They treat her like family, and that's exactly what she needs since losing the one person that meant a lot to her. Honestly, there was so much to like about the heroine. The way she stood up to Stefano when they first meet had me smiling, even though it was unlikely that she'd win any argument with him. But what I liked most about Francesca was the way she handled all the challenges thrown her way from the women that were jealous of her to finally facing her past.
While Stefano, he's confident, commanding, and not a man to be crossed. He isn't an easy man for anyone to get close to, and yet, he lets his guard down – at least a little bit — for Francesca because he wants to win her over. However, in saying that, I did get frustrated by his my-way-or-the-highway attitude. Why couldn't he treat Francesca like an equal instead of someone under his protection? Indeed, he was a little too overprotective.
Overall, this was a really good start to this new series for Ms. Feehan where the sex scenes were hot and did justice to this couple's intense chemistry. The way this story ended was incredible, as the Ferraros show just what it means to be a shadow rider and that no one should mess with a member of their family or anyone under their protection. I would recommend Shadow Rider by Christine Feehan, if you're a fan of paranormal romance.

Book Info:

Publication: June 28th, 2016 | Jove | Shadow #1
The #1 New York Times bestselling 'queen of paranormal romance'* is back with a sexy new series starring a Chicago crime family that hides a dark, mystical secret . . .
Whether it's fast cars or fast women, Stefano Ferraro gets what he wants. When he's not fodder for the paparazzi, he commands Ferraro family businesses – both legitimate and illegitimate.
While their criminal activity is simply a rumor yet to be proven, no one knows the real truth. The Ferraros are a family of shadow riders capable of manipulating light and dark, an ability Stefano thought ran in his family alone – until now . . .
With little left to her name, Francesca Cappello has come to Chicago in hopes of a new life. She wasn't expecting to attract the attention of a man with primal hunger in his eyes, driven to claim her as his to protect and to please. And if he discovers her secret, it could ruin her . . .