Shameless by Joan Johnston contains fascinating, well-developed characters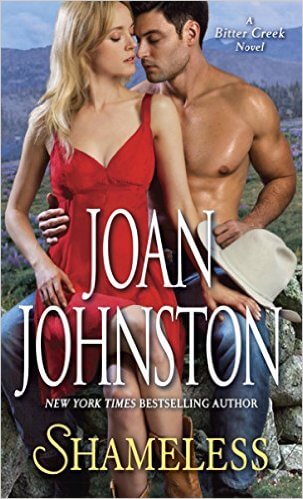 that take you into their world and keep you there until the last page. It also happens to be book 14 in the Bitter Creek series but can be read as a standalone.
Pippa is young and naïve. She just found out the ranch hand she's been with is married. If that's not bad enough, throw in a pregnancy. The scandal of it all forces her to leave. Her father decides to move them to America, more specifically Wyoming. When they move to Wyoming, they have to put up with annoying family members who do nothing but start trouble. Drama ensues! The only good thing about the place is Devon.
Devon fights for want he wants and what he wants is Pippa. Pippa has been burned and shamed before and it's easy to see why she's skittish, but she and Devon are the real thing. The relationship is a slow burn and it's exactly what is needed to make sure the relationship can last.
Pippa and Devon together made sense to me. They started off as friends and slowly developed into something more, something worthwhile. Even though there was lots of family drama and more secrets than anything, the tender romance Pippa and Devon developed took priority.
Shameless has a little bit of everything to pique the interest in any reader. The cover alone is sexy enough to entice any romance lover. It really is beautiful to look at! I would definitely recommend Shameless to anyone who loves a good scandal with their romance.
Book Info:

Publication: December 29th, 2015 | Dell | Bitter Creek #14
HER SHAMEFUL PAST MAKES HER AN OUTCAST—
UNTIL A LONE WOLF TAKES HER INTO HIS HOME.
Scorned, pregnant, and facing a life without promise, Pippa Grayhawk is stunned when her father announces that they're leaving their home in Australia to take over his estranged father's sprawling Wyoming ranch. Drawn into bitter family rivalries and feeling like an interloper in her new home, Pippa rides out into the wilderness and meets an intriguing stranger and his pet wolf. The wolf doesn't scare her, but she's very much afraid to trust another man with her heart.
Devon Flynn knows all about going it alone. He lives in an isolated cabin, away from his domineering father and the scandal surrounding his family. Devon's attraction to Pippa is intoxicating and undeniable, but when he tries to get close, she's as wary as his once-wild wolf. Devon is willing to defy his father, and hers, to claim Pippa as his own, but winning this wounded, wonderful woman's love might be the greatest battle of all.