Shameless by Lisa Renee Jones is the second and final book of the White Lies Duet. Readers will get all the answers they crave in this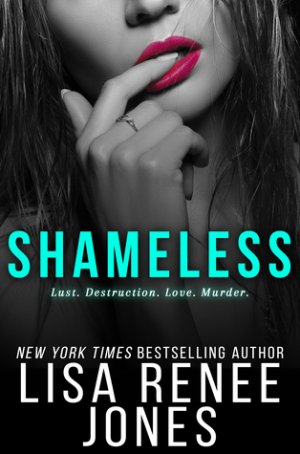 steamy yet exciting novel. If you haven't read the first book, do not pick this one up, until you've finished Provocative. If you're on the fence about this series, my advice to you is to jump right in, especially since it's now complete.
So, in the first book we meet Nick Rogers and Faith Winter. Nick went looking for Faith with revenge in his eyes, but ended up with so much more. Seduction and secrets filled the pages and now, everything is about to come out.
Nick puts on his thinking cap and tries to figure out why his dad named Faith as dangerous, and with the help with a few allies, the truth will be revealed. We also find out what's going on with the winery, but Faith has a few unexpected surprises in store for her…and they might be deadly.
I really enjoyed reading about Nick and Faith. Not only is Faith an amazing artist who has her whole career in front of her, she's also a strong heroine, who wants to do things her way, without letting Nick foot the bill. And even though Nick is a dominant character, Faith didn't turn submissive but instead, appreciated his dominance…which made for some really HOT scenes!
The relationship between Nick and Faith is full of passion, intensity, and heart. Their journey was an unusual one, but the love between them is clear. For readers who have read the first book, you definitely need to read Shameless, to see how it all unfolds. For those who love intrigue and suspense, Lisa Renee Jones, is one of those authors who knows how to keep the pages turning.
Book Info:

Publication: July 11th 2017 | Julie Patra Publishing | White Lies Duet #2
The second and final book in the sexy and tantalizing White Lies Duet from New York Times Bestselling Author Lisa Renee Jones.
Nick "Tiger" Rogers, sought out Faith Winter with revenge as his agenda. He made her his obsession. He seduced her. He made her want him. He made here trust him. And then he trusted her. He wanted her. He loved her.
But now, the lies will be exposed, the truth revealed.
Hearts will be broken. Lives shattered.
Nick. Faith.
The truth. The passion.
The SHAMELESS obsession.