In Sharing You (Sharing You #1) by Molly McAdams, Kamryn Cunningham spent six years too many in a relationship she was forced into by her socially elite parents. Growing up she felt like nothing more than their piece of property to be used for personal gain. Done with that part of her life, Kamryn moves away to a small Oregon town and opens her own bake shop, a dream she's been working toward her whole life. She isn't looking for a relationship. However, everything changes when she runs into Brody Saco for the first time. The instant draw she has for him is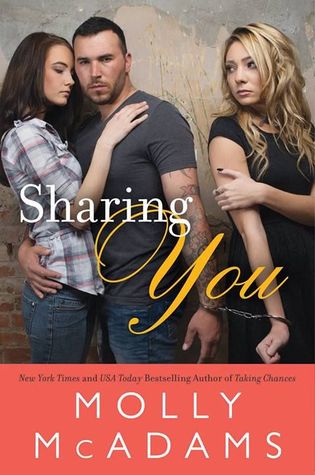 unlike anything Kamryn's ever felt. But the situation is doomed before it begins. Brody is married. And she will not be the Other Woman. Or so she tries to tell herself, as she walks down a path she never believed she would ever take.
'But I knew if there was such a thing as soul mates, Brody Saco was mine. And he was still married to another woman.'
Policeman Brody Saco feels trapped in his marriage to Olivia. The self-assured, sometimes selfish girl she used to be has turned into a woman with more mood swings than he can take. But Brody blames himself for the way she is today, thanks to a family tragedy they endured a few years ago. So when he meets Kamryn and he's suddenly filled with hope for a new beginning, Brody stars to fight his way out of his grief. Armed with a plan to move on from his broken marriage, his intentions falter the instant he's alone with Kamryn. He's an honorable man and feels he needs to get Olivia the help she needs emotionally first, but with her fighting him every step of the way, how will Brody ever be able to live his own life without the guilt.
"If what you said last night was the truth, if you can promise me that one day we'll be together, then I'll go through hell for you."
Leaning in, I pressed my mouth to hers and spoke against her lips. "I promise. One day we're going to have our forever. Nothing will stop us."
Sharing You is a New Adult novel that is bound to make you feel strong emotions and to get a big reaction in readers. Some will be good, some not so much. But that is the magic that Molly McAdams gives us in this genre every single time.
Let me first say that cheating is not one of my favorite subjects for a romance. A love triangle is one thing…I can read those all day long. So Sharing You was kind of a test of wills for me at times, to see if I could finish it. And I was glad I did. It was a story that I really didn't want to like but ended up getting sucked in to the dramafest and actually even connecting to Kamryn in some ways.
What I thought was surprising is that the character I found myself the least upset with was the Other Woman. Strange, but true, and totally opposite of how I normally react to these storylines. I'm sure if you read the book you'll see what I mean. I'm thankful this was written from both Brody and Kamryn's POVs so we knew what each was going through. I think that above all else was what really helped me continue along with this story. If it was only from Kamryn's POV, I probably would have been so frustrated by Brody's actions that I would have given up. Maybe. 😉
The other surprise here? I actually didn't completely condone Kamryn and Brody for what they did. The story of Brody and Olivia's relationship (if you can call it that) and their subsequent marriage was twisted, hurtful and, let's face it, totally effed up. Mainly on Olivia's part. There were so many times I wanted to reach into my Kindle and give both Olivia and Brody a smack, that it was a bit sad. So if Ms. McAdams was simply trying to get a reaction out of her readers, she certainly did out of me!
Overall, I did like the story–and most definitely the ending. So if you're a fan of twisted, emotionally complex stories with its fair share of angst, check out Sharing You and draw your own conclusion.
Book Info:


Published July 1st 2014 by William Morrow Paperbacks
Twenty-three year old, Kamryn Cunningham has left all she's ever known and moved to a small town where no one knows her name, who her parents are, or her social status in the horseracing world. Months after opening her own bakery and evading attempts of being set up by her new best friend, she meets Brody. Kamryn fights the instant pull between them because there's a detail she can't dismiss. Brody's married.
To say that twenty-six year old, Brody Saco has had a rough marriage would be an understatement. After marrying his pregnant girlfriend, he spends the next six years in a relationship filled with hatred, manipulation and guilt involving a tragedy that happened five years earlier. When he keeps running into his sister-in-law's best friend, Kamryn, he can't ignore that she makes him feel more with just one look than his wife ever has; and soon he can't continue fight his feelings for her.
When staying apart proves to be too difficult, Brody and Kamryn enter a relationship full of stolen moments and nights that end too soon while they wait for Brody to file for divorce. But the guilt that comes with their relationship may prove to be too much for Kamryn, and Brody might not be strong enough to face the tragedy from his past in order to leave his conniving wife