Sicilian's Baby of Shame by Carol Marinelli is the third and last story in the Billionaire's and One-Night Heirs trilogy. All three stories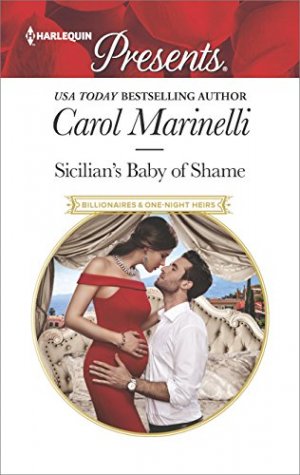 work well as standalones, but there is some interesting story follow up in this one that answers some questions left from book 1, The Innocent's Secret Baby. Bastiano Conti was first introduced in that story as the nemesis of hero Raul Di Savo. Both men grew up together in the same Sicilian village, but had a falling out related to family matters and ended up interested in pursuing the same business ventures and the same woman. Though Raul gets the girl in that story, here Bastiano finally learns what it's like to fall in love.
Bastiano has plans to purchase the Grande Lucia hotel in Rome from his friend, Alim. While staying at the hotel,he's investigating a little more about the staff he'll inherit if he decides to take it on. During his stay, he meets the lovely, innocent chambermaid Sophie. She doesn't know who he is, only that he is a wealthy client. One thing leads to another, and a steamy interlude ensues. Sophie is fine with her decision to have one night with the handsome and enigmatic man, but when she finds out he's the potential hotel owner she's worried about losing her job. When next they meet a few months later, neither has been able to forget the other, and they share another steamy night together. This time a jealous co-worker of Sophie's wreaks havoc on both their lives. Sophie soon loses her job, and discovers she's pregnant! Can Sophie and Bastiano find their way to a happy ending?
I really enjoyed this finale to the trilogy! I had some definite opinions (not positive ones) about Bastiano from the first story in the series and this one goes a long way to helping understand the motivation behind some of his actions as a teenager that caused the rift between him and Raul. It also makes him a much more likable character. As a man whose mother died in childbirth and whose father never acknowledged him, Bastiano had grown up not believing in love – he was the 'baby of shame' in his village. It makes it difficult for him to imagine making a commitment to a woman, and having a family with her. When he first spends time with Sophie he knows that she doesn't view him the same way as the people in his village who have disdained him for some of his prior activities. Her belief that he is a good and honorable man is one he takes to heart, even if he knows others don't feel the same way. Of course, it doesn't stop him from seducing her but she is fully consensual in all their activities and they share some steamy scenes together.
Sophie comes across as a little naive, but spirited and a woman of strength. Through a series of events she ends up having to make some serious decisions about what she's going to do now that she's pregnant and alone. Her relationship with Bastiano goes through some ups and downs as they spend time together and then apart, but in the end they both make the right choices and end up going down the aisle together in a lovely finale. There is also a nice resolution to the animosity between Raul and Bastiano that paves the way for a return to friendship once again. The Italian setting is lovely here as is seeing Bastiano fall for a woman who believes in him. I recommend all three stories in this series!
Book Info:

Publication: June 20, 2017 | Harlequin Presents | Billionaires and One-Night Heirs #3
Seduced…
When hotel chambermaid Sophie delivers room service to Sicily's most dark-hearted tycoon, Bastiano Conti, his raw sexuality tempts her to take the ultimate risk—surrendering her untouched body to his!
Shamed…
Bastiano's ruthlessness is renowned, but even his conscience flickers when he discovers Sophie was fired for their indiscretion—the memories of which are branded onto his very soul—and has disappeared.
Pregnant!
Bastiano finds Sophie working in a bar—disgraced, destitute and pregnant! Rejected by his own family, Bastiano is determined to claim his child…by seducing defiant Sophie into wearing his ring!