In Silver Silence (Psy-Changeling Trinity #1) by Nalini Singh, Silver Mercant is from a family of Psy who are known for being ruthless in business and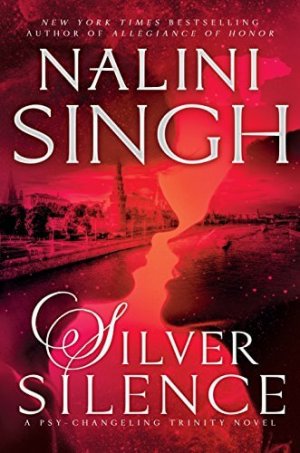 being completely Silent. Her ice cold persona serves her well in her new job coordinating humanitarian assistance through EmNet. Her attitude also allows her to rebuff the advances of StoneWater alpha bear Valentin Nikolaev in his many attempts to date her. But a threat against Silver sends her into Valentin's protection where she'll stay with his rowdy clan. She's unsure her Psy nature will mesh with that of the changelings she'll be surrounded with, but she finds herself accepted with open arms. Literally. Because bears are very, very touchy-feely. Especially Valentin, who ramps up his efforts to court her. But is it worth the possible harmful outcome for Silver to give up her Silence and see if she's capable of returning Valentin's affection?
'The kiss he pressed to her lips had shouts going up all around them…and her mind threatening to short-circuit.
But she was Silver Fucking Mercant. She could handle a kiss.
Even if it threatened to melt her bones.
Illogical. Irrational.
And yet…'
Valentin has wanted to make Silver, aka his Starlight, his own from their first meeting. And using all of the tricks up his beary sleeve has been working so far. Sort of. Because even though Silver is a fierce alpha like himself, she hasn't completely shot down his attention. When Valentin is tasked to protect Silver after an attempt on her life, he knows this is his chance to show her she was made to be his mate and welcome her into his home. But struggles within his clan weigh heavily on his mind. And as a group of terrorists also begin to threaten people around the world, sending everyone involved with the Trinity Accord scrambling, Valentin will have his work cut out for him to keep those he loves safe. Especially when he's finally making strides to claim Silver for his own.
She laughed. Starlight actually laughed. It was short and cut off almost at once, her hand at her mouth. But he'd heard, and it was the most beautiful sound in the universe. "Do that again," he whispered.
Eyes wide, she said, "Did I laugh?"
The new "season" of Nalini Singh's Psy-Changeling series began here with Silver Silence, and wow what a spectacular start! Bear changelings. Psy. The Consortium. And even a new faction, HAPMA, looking to rid the world of what it deemed as evil. The intricate world Singh has created got even more complicated and dangerous, but had a spark of hope for those groups willing to work together for their respective futures.
'Welcome to the Age of Trinity.'
At nearly five hundred pages, Silver Silence was an investment in time that was well worth it, in my humble opinion. And SO much happened. To the point where it could get confusing at times, but I think the details included were important to where the story will go. There were new players added to the game, while we have the potential of losing an important member of the Alliance–time will tell on that one. There were devastating attacks and worldwide events that threw all three groups, Psy, Changeling, and Humans, into turmoil. But through it all, the constant was alpha bear Valentin's struggles to woo and court Psy badass Silver. And what a fun, heartfelt battle it was.
I have to say that the StoneWater bears are (for now) officially my favorite Changeling group. They were hilarious, rambunctious, playful, but loving and oh so loyal. I adored Valentin as an alpha and nearly swooned when Singh described how deeply he cared for every single member of his clan. Especially when it came to the cubs. The little gangsters, as they were lovingly called, made me laugh right along with Valentin, and I loved the way he played games one minute with them and then cuddled them close to show them their alpha loved them the next. *dreamy sigh* His background, though, was a fairly tough one when it came to his parents and I was impressed with Silver's capacity to empathize with him and help him deal with his emotions over it and the fallout he was still facing as an alpha.
Silver really surprised me. She was still Silent when this story began and she didn't see herself ever trying to lower her shields for reasons we found out as things progressed. But then Valentin and his charming ways changed everything. I got such a kick out of how everyone asked if Silver was sure she wasn't part bear because she knew exactly how to put Valentin in his place, being a strong alpha herself. And watching her transform from Silent to discovering what it was like to feel emotions was so heartening. I thought that even though she seemed icy to begin with, she always had the ability to be compassionate in her own way which helped as she created and ran the EmNet, assisting in humanitarian efforts across the globe. I was also surprised how much I liked her family, including Grandmother Mercant and Arwen. The dynamics between them all were close to that of non-Psy families and I appreciated their connection.
With glimpses into what may happen in the future, all I can say is that Silver Silence set up the Trinity nicely and it looks like things will continue to be exciting and as always, ever-changing going forward. Fans will certainly love this newest installment!

Book Info:

Publication:  June 13th 2017 | Berkley | Psy-Changeling Trinity #1
New York Times bestselling author Nalini Singh introduces a bold new chapter in her extraordinary paranormal romance saga with the Psy-Changeling Trinity series. Wild passion will encounter the darkest of betrayal…
Control. Precision. Family. These are the principles that drive Silver Mercant. At a time when the fledgling Trinity Accord seeks to unite a divided world, with Silver playing a crucial role as director of a worldwide emergency response network, wildness and chaos are the last things she needs in her life. But that's exactly what Valentin Nikolaev, alpha of the StoneWater Bears, brings with him.
Valentin has never met a more fascinating woman. Though Silver is ruled by Silence—her mind clear of all emotion—Valentin senses a whisper of fire around her. That's what keeps him climbing apartment buildings to be near her. But when a shadow assassin almost succeeds in poisoning Silver, the stakes become deadly serious…and Silver finds herself in the heart of a powerful bear clan.
Her would-be assassin has no idea what their poison has unleashed…