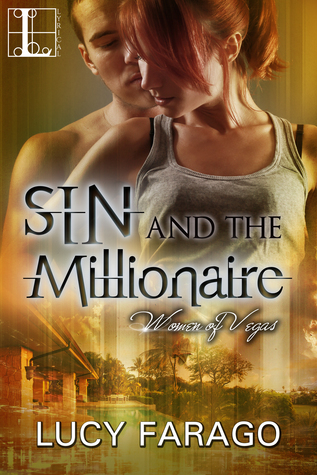 In Sin and the Millionaire by Lucy Farago, Lizzy's business partner and friend, Duncan, are caught up in a mystery of who killed his soon to be ex-wife. Despite the fact Duncan was angry at the woman for cheating on him and ruining their marriage, Lizzy knew he couldn't be the killer. Together they embark on a fast-paced journey to get to the bottom of the crime.
Lizzy and Duncan worked well together because they both had a mutual respect for one another. Lizzy didn't view him as a wealthy nerd, like some people did, and he was able to look beyond the fact that he met her while she was stripper. They both looked past what other people had judged them by in the past to see who they truly were as people.
While I liked Lizzy and Duncan, I felt the murder aspect of the story was wrapped up a little too quickly. Since it's a novella, I get why it was done that way, but I would have liked it if it had been flushed out more. Also, the mystery of who the ex was sleeping with at Duncan's company seemed obvious to me, so it wasn't a surprise when it was revealed.
This novella falls between book one and book two of the series (book two hasn't been released yet). Characters from book one, Sin on the Strip, did make a brief appearance and were mentioned a few times throughout the story. I haven't the first book, so I did feel a little lost when there were references to Maggie and some of the other characters because it felt like I was expected to know something about these people. So while this story works as a stand alone, you might get more enjoyment out of it if you read Sin on the Strip first.
Lucy Farago has managed to pack a lot into such a short story. There's murder, mystery, and betrayal all mixed with a splash of romance. If you're looking for a quick read, this may be a story for you.
Book Info:

 February 2, 2015 | Lyrical Press | Women of Vegas #1.5
At seventeen, Lizzy's first love swindled her out of a small fortune in lottery winnings, and her own small business—forcing her to strip to keep loan sharks at bay. That's what led her to Vegas. Now she's agreed to cater a Valentine's Day party for her friend and soon-to-be business partner, Duncan. What she doesn't know is that the shy, wealthy tech wiz is secretly in love with her. Lizzy also doesn't expect to be hauled in by the cops when the two of them are accused of murdering Duncan's gold-digging (almost) ex-wife…
Lizzie should have learned the first time that mixing business with pleasure isn't a good idea. For the record, she doesn't sleep with friends. But as she and Duncan race to clear their names and find a killer, might they also discover they're more than friends—just in time for the most romantic day of the year?….