Sin for Me by Lisa Marie Perry: Welcome to the world of Devil's Music where you'll find lies, secrets, betrayal, competing agendas,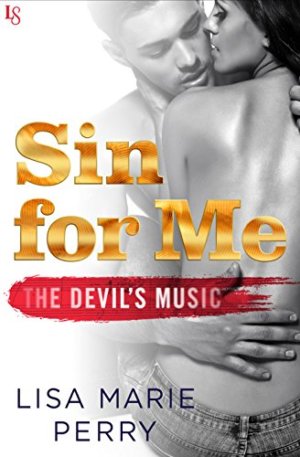 loyalty is a commodity to be traded, and a willingness to sacrifice yourself for money and power.
Dante Bishop is a talented songwriter and he inherited the company along with his sister, Delilah, when their father committed suicide. Dante grew up in the music world and he saw what it took to stay on top. He left the family company behind because he didn't want that life. But he didn't entirely leave music behind, as he can't stop writing music. Delilah is obsessed with the company that she helped put on the map when it comes to hip hop. Emma is the current CEO and former best friend of Delilah. She comes from money and sees the music company as her birthright, as much as Delilah does. Josh is the current CFO and married to Emma. He can be charming and intimidating when it suits him and is incredibly resourceful. Chelsea is the current COO and she's determined to remain at the top to make her betrayals and sacrifices worth it.
But the company has had more than its share of setbacks since Chelsea, Emma, and Josh formed an alliance to oust their former friend and her ex's sister from the board. Dante may be the only one who can help turn around Devil's Music by creating chart topping hits and neither Dante nor Chelsea have forgotten their painful past or relationship.
She wanted remorse, an apology years in the making. He would deny her that, too. "No, I'm here to write some songs, not to give you closure."
"A farm did this to you? Turned you into a hard bastard?"
He silently shook his head and clasped her foot, holding it still. "No," he said again. "You did."
They may not like or understand each other, but their chemistry is as strong as ever. They'll indulge in an affair while Dante is still in town, but the past is a tangible thing that keeps them on opposite sides. They get closer than expected, but it seems like everyone has their own agenda. Between lawsuits, drama, and infighting, Chelsea is no longer sure of who she can trust.
"Just saying that so I'll shut the hell up?"
"Partly."
"If you want me to trust you, then your word needs to mean something."
Sin for Me has drama, angst, heat, and scandal. Lisa Marie Perry created a fast paced story where there's always more than what meets the eye. Ms. Perry created intriguing characters with interesting relationships that will keep you guessing as to what the real story is behind the parties, sex, drugs, and music. Fans of Stephanie Tyler and Laura Marie Alton will enjoy Sin for Me.
Book Info:

Publication: February 21st 2017 | Loveswept | The Devil's Music #1
Fans of Empire will love Lisa Marie Perry's stylish, addictive novels of passion, drama, and seduction. The high-powered men and women behind Devil's Music have made their fortunes building the hottest label in hip hop, but it's the action behind the scenes that's seriously steamy.
For Dante Bishop, music died the night he found his father's body next to a syringe of lithium. Ditching Atlanta, Dante jumped on his Harley and left the family business to his sister. She became the heart and soul of Devil's Music—until the board, including Dante's ex, masterminded a takeover. Years later, Dante's doing something he never thought he'd do: returning to Georgia to put his songwriting skills to good use. Reuniting with Chelsea Coin only sweetens the deal.
As the perfectionist COO of Devil's Music, Chelsea doesn't dwell on the past. If she did, she'd never forgive herself for betraying the Bishops in a corporate power grab. Now Chelsea needs help to save the company, and Dante's a nonnegotiable part of the arrangement. Still brooding and hot as hell, Dante wastes no time stirring up unfinished business—and carnal memories Chelsea would rather keep buried. She's come too far to risk everything on a man. But for desire this intense, she might just enjoy the sexiest mistake of her life.