In Since You've Been Gone (Welcome to Paradise #4) by Elle Kennedy, Mari Smith has no choice but to return to her childhood home and her parents, when her position as an art teacher in Chicago has been eliminated due to the poor economy. She loves all types of art and is a very good sketcher. Mari, short for Marigold, is a cute, spunky redhead,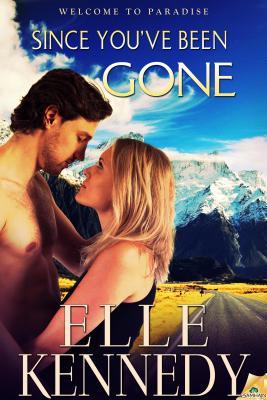 personifying a little more than a hint of wildness and adventure. Many miles away from her parents home in Des Moines, her almost falling apart Toyota breaks down on the side of the road. Luckily for Mari, Austin Bishop just happens to be passing by and offers her a lift and the adventure of a lifetime.
Semi-famous photographer Austin Bishop has been harboring a secret for over a year. He has purposely stayed away from his hometown of Paradise, Colorado by accepting a photo shoot that sparks any teeny bit of interest. Austin misses his family dearly, but he needs time to process his thoughts and future outside the confines of Paradise, which include his brothers, mother and uncle. Presently Austin is on assignment, traveling to unique small towns throughout the country, capturing Main Street USA via photographs. Rescuing Mari is a wonderful diversion and distraction from the complications in his life.
Initially, Mari and Austin ignore their mutual attraction and chemistry. But since Mari is in no rush to return to Des Moines, and she and Austin seem to get along really well, she accepts Austin's invitation to accompany him on his photo expedition. Within a very short time they become good friends, and Mari convinces Austin to return to Paradise in order to confront his demons. They are a good team and slowly but surely begin to fall in love.
Both Mari and Austin have been celibate for quite some time, so when they finally give in to their lustful yearnings, they are trembling with ecstasy. It is truly amazing how two people not looking for love are able to evolve their relationship into something more so quickly.
Even though Austin has no desire to stay in Paradise, Mari finds the town special and a place she can call home. She is able to secure a job and make some friends, which only endears her more to the town. Luckily, Mari's love is able to keep Austin in Paradise and deal with his secret.
I enjoyed this engaging read and Elle Kennedy's smooth writing style. The combination of fun and seriousness is well thought out and perfectly balanced. Both main characters are extremely likeable and I was able to feel their love connection very quickly. The realism of the story is exemplified from the interaction and synergy of the secondary characters. This book is well-written, quick-paced, and easy to read. If you enjoy a love at first sight type of novel, this book is for you!
Book Info:

 HJ Recommends
Publication: October 22nd 2013 by Samhain Publishing, Ltd. | (Welcome to Paradise #4)
What happens on the road can follow you all the way home.
Welcome to Paradise, Book 4
Austin Bishop is going home to face some difficult truths, but that doesn't mean he can't take the long way home. So rather than hop on a plane, he accepts a photography assignment that requires a cross-country drive.
The road can be a lonely place, though, and when he spots a cute redhead leaning against a broken-down car, he stops to offer the stranded damsel a ride.
Mari Smith has lost her job and her apartment, she's moving back in with her parents, and now it looks like she's without a car, too. When a sexy, dark-haired stranger stops to help, she's utterly grateful. And utterly tempted to explore their sizzling chemistry.
The fresh-faced Mari is so sweet, so smoking hot, so easy to be with, Austin finds himself spilling a shocking secret he's been holding onto for the past year. But passion doesn't fix everything. And Austin realizes he has some personal demons to vanquish before he and Mari can hope for a chance at forever.