Sinfully Summer by Aimee Duffy, is a very quick read, only 13 chapters, but it is a really great story.  Let me tell you a little about it.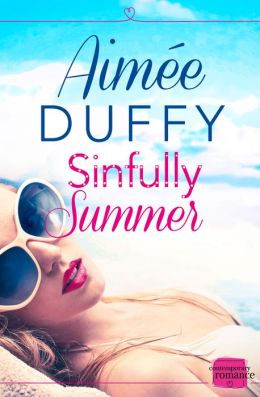 Alexa Green is an heiress who is enjoying one last summer holiday in Marbella with her girlfriends.  Alexa is the party girl who is followed by the press and always manages to find herself in the news papers because of her bad behavior.  While on holiday, her friends dare her to run through the hotel in nothing but her underwear.  Trying to avoid a group of rock stars, she ends up sneaking into the penthouse suite of none other than the very hot, very rich, very stuck up Enrique Castillo.
Enrique "Ric" Castillo grew up on the streets, having to do a lot of things that he was not proud of just to survive.  Adopted at 12 by the Castillo's, he feels that he owes them everything and will stop at nothing to prove himself, make them proud and find a way to pay them back, while trying to keep his past buried.
Intrigued by Alexa, Ric gives her an ultimatum, Help him plan and host his Children's Charity Event, or he will call the press and have her and her underwear all over the front page.  Alexa sees this as a way to change her reputation, get exposure for her own business, "Together", and help homeless children in the process.  The attraction between these two is palpable, but will his past and her playgirl ways pull them apart before they even start?
I loved Alexa.  She is not what she seems in the beginning of this story.  You really get a sense of why she has acted out in the past.  I love how she grew and changed throughout this story.  Ric's character from the start came off as a hard nosed businessman who does not have time for fun.  He is so worried about his past being exposed and hurting the parents how adopted and love him or seeing pity in Alexa's eyes, that he tries to push her away at every turn.  His growth in this story made me fall in love with him.
I really like everything about this story and I would recommend it and look forward to more from this author.
Book Info

Publisher: HarperImpulse (June 20, 2013)
SUN, SEA AND SCANDAL
Notorious heiress Alexa Green has certainly been enjoying her most recent girls-holiday in Marbella. Just as we thought, she's been knocking back the cocktails and showing off her fabulous bikini body on the beach… but rumour has it she's also been spotted sneaking out of Enrique Castillo's penthouse in the early hours of this morning – in nothing but her underwear! Our question is, doesn't this fiercely private billionaire know what he's letting himself in for?
He's got the millions… and she knows how to spend them! So lie back on your sun lounger and get comfortable, because this summer fling is going to be a sizzler!