In Six Impossible Things (Rhymes With Love #6) by Elizabeth Boyle, Lord Rimswell, aka Brody, was not prepared to take over the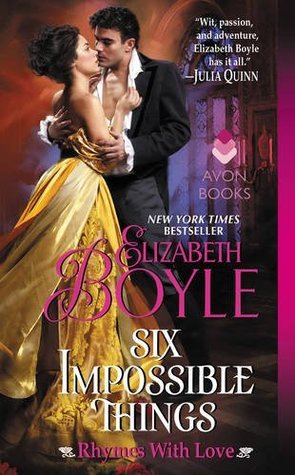 family role as baron when his brother was killed in the war. Nor was he ready to give up working for the Home Office as a spy. So now he is trying to remain relatively safe while in pursuit of turncoats and criminals. Not an easy task. Especially with Brody's childhood friend Miss Roselie Stratton sneaking around and playing spy herself. He is convinced it is up to him to keep her safe, whether she wants his assistance or not. But she proves wily and aggravating, yet highly skilled in her investigation. Brody begins to question whether his need to protect his Rosebud is just duty or if the feelings he's had for her for ages point to something even more concerning: love.
'He had to make her see reason. Or sense. He paused for a moment as he tried to balance those conflicting notions. Roselie and sense. Oh, yes, of all the impossible tasks…'
Roselie was told her entire childhood that she would never become a spy, that it is only something a man could achieve. So of course that just made her try harder and become more adept with her skills. She's pleased with the information she's so far been able to secretly provide to the Home Office but still finds herself being looked down upon by many. Including her one time close friend Brody. As Roselie's investigation into possible treason and murder picks up, becoming more dangerous at every turn, Brody becomes enmeshed as well. She fears he'll soon be targeted by villains just as she has been. And Roselie must decide if the risk outweighs the potentially deadly outcome, especially given how deeply she cares for him.
'It was one thing to risk her own life–but now her masquerade had put far more people in danger than she'd ever considered.'
Six Impossible Things was an exciting romp across London, sort of a Spy vs. Spy–Regency style. And what made it so much fun? Watching former childhood best friends vehemently deny how their feelings had changed into that of a much more romantic nature over the years.
'This reckoning, this moment, had been simmering between them for years now. This desire, this passion. God, he wanted her.'
There was quite a lot in this story that worked for me aside from Elizabeth Boyle's entertaining writing. Of course I love a good friends-to-lovers trope, and this was also a marriage of convenience , so that was a win. Plus the thread of mystery was well done and kept me guessing as to all of the details until the end. I also really enjoyed the unconventional characters and their lively dialogue. The only slight drawback for me was how much our heroine Roselie charged into the midst of danger, knowing it had the potential to harm those she cared about. It made me teeter between a 3.5 and 4 star rating, but I liked the storyline, characters, and Roselie and Brody's connection enough that 4 stars won out.
I got a kick out of how different Brody and Roselie were in terms of their spying abilities. She grew up emulating her father who worked for the Home Office and used to secretly follow her brother and his friends around, spying on them and honing her skills. Roselie was sneaky, witty, and could discern information easily. Brody on the other hand, well, he was a little bit bumbling in comparison. But it was done in a rather playful manner, so I didn't find it frustrating. He did end up being a smart man who was extremely loyal and watchful over his loved ones. And then of course Brody was madly in love with Roselie.
Roselie and Brody's romance was a very passionate one, right from the beginning of the book, although they had more of a battle of wits going at first. I loved watching as their feelings grew, bit by bit, until their desires got the better of them and they were forced to marry. It was almost comical how much Brody and Roselie tried to deny that they loved each other, even though they acknowledged their physical attraction. Those scenes particularly were sensual and it showed how wonderful a match the two were together.
Overall, Six Impossible Things was a quick and delightful historical romance that captured my attention immediately. There were a lot of characters to keep track of, but I think this could be read as a standalone or as part of the series, either way.

Book Info:

Publication: Published April 25th 2017 | Avon | Rhymes With Love #6
In the sixth novel of the enchanting Rhymes With Love series from New York Times bestselling author Elizabeth Boyle, a nobleman falls in love with a beautiful spy he must protect…
Lord Rimswell is a man of honor and absolutes. If he says something is impossible, it is. Yet his life of right and wrong is turned upside down when he finds himself in a compromising situation with the most unyielding, yet maddeningly beautiful, woman in London. If only he had not given in to the irresistible temptation to kiss her. Now he must marry her.
Miss Roselie Stratton is the very definition of impossible—headstrong, outspoken, and carrying a reticule of secrets that could ruin more than her reputation. Kissing Brody is hardly the most ruinous thing Roselie has ever done as a secret agent for the Home Office…nor will she let a marriage of convenience stop her from continuing her work. Little does Roselie realize that she has underestimated Brody's resolve to keep her safe—for he has hopelessly fallen in love with her and is determined to do the impossible by stealing her heart in return.