In Skies of Gold (The Ether Chronicles #5) by Zoe Archer, Arriving on the uninhabited Scottish isle of Eilean Comhachag, engineer Kalindi MacNeil settles in to her family's cottage ready to reflect and find some peace in her harried life. She might have survived the Battle of Liverpool, when the building she worked in was flattened, but it has left some lasting effects on her. Both physically and mentally. Kali hopes the solitude will allow her to heal while she spends her time tinkering away on new projects and exploring the island. Her first night there, she hears a low humming sound, almost mechanical in nature, and goes outside to see something glowing across the fields. Determined to find the source, the next day she treks off into the moors and finds out she's not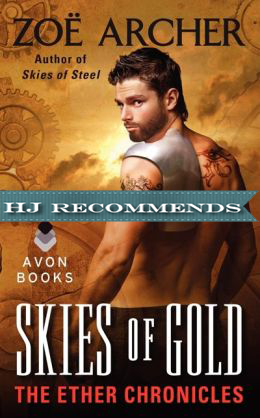 alone on the island after all. A wild-looking beast of a man appears, just as shocked to find someone else there as she is. Both of them are weary of each other but decide to try to be amicable, to allow as much privacy as possible on the small island. However, Kali and Fletcher soon find themselves inexplicably drawn to one another. When their quiet solitude is threatened, Kali must come to terms with how much this man means to her, and how far she's willing to go to keep their fragile bond intact.
'Damn it, he did this to me. He made me feel again.
And they were bound together. Through circumstance and history. Through an invisible link that made her acutely aware of him.'
Fletcher Adam's wish to remain exiled is shattered when Kali appears on the deserted island. He tries to stay as far away from her as possible, he truly does, but she's the most confounding woman he's ever met. She has the brilliant mind of an engineer, the body of a goddess and is just as confused and damaged as he is. As they get to know each other, Kali slowly convinces him that maybe he's not the monster he's deemed himself to be. Being a Man O' War was something he was once proud of but not everyone from his past was happy with his accomplishment. With Kali's help, he begins to heal his broken heart and wounded spirit. He's never connected with someone so deeply before and it both scares and excites him. The island becomes their safe haven and neither one wants to think about what would happen should they have to go back to society some day. But will that day come sooner than Fletcher anticipated?
'And yet, here he was. At midday, standing at the periphery of a field and staring at a little stone cottage. A cottage that housed the first person he'd seen or spoken with in three months. He wanted to bolt back to his end of the island and stay there, content in his solitude. Another force, bright and demanding, tugged him toward the home, and the woman within it.'
Zoe Archer is a must read author when it comes to Steampunk. Skies of Gold is a very elegantly written novel, full of poetic-type prose and deep emotions, but it also has that mechanical edge to it with all the gadgetry this genre boasts. Underneath it all this is a deserted island trope which I always find intriguing. There's just something about seeing two people, completely alone. You get to see the real emotions and watch them make that bond with no outside forces interfering.
Kali and Fletcher are kindred spirits. Plain and simple. They understand what each other has been through and so they know when to say something or when to just remain quiet. Their pasts have molded them into who they are now, both good and bad. But their pasts also have formed a common thread between them…giving them a base upon which to potentially build a future together. I found their situation quite easy to relate to and it was actually (I think) a great catalyst for a love story.
Whether you are new to the Steampunk genre or if you're already a fan, definitely check out Skies of Gold. This can definitely be read as a standalone , although you'll probably want to check out the rest of this series after reading this book. It's just that good!
Book Info:

Published August 13th 2013 by Avon Books (first published August 6th 2013) | (The Ether Chronicles #5)
Two Lonely Hearts . . .
Kalindi MacNeil survived the devastating enemy airship attack that obliterated Liverpool, but even her engineering skills can't seem to repair her broken heart. Seeking to put her life back together, Kali retreats to a desolate, deserted island–only to discover she's not alone. Captain Fletcher Adams, an elite man/machine hybrid, a Man O' War, crashed his battle-damaged airship into the island after the destruction of Liverpool, never expecting to survive the wreck. But survive he did.
One Desire . . .
Believing he is nothing but a living weapon, Fletcher is wary of his newfound companion–a pretty, damaged, but determined young woman. Together they are stranded on the island, and it is only a matter of time until desire gets the best of them both. Soon Kali and Fletcher each find that they may be just what the other needed. But a danger from beyond the island puts them to the test. Will it rip them apart or bond their hearts forever?
Add to: