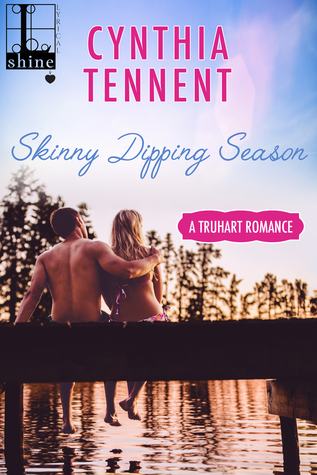 Skinny Dipping Season by Cynthia Tennent is filled with witty banter, dysfunctional families, and complex characters who find acceptance in a small town.
After Elizabeth's reputation is damaged from a scandal, she escapes to Truhart, where her grandma's house still resides. She's tired of being the golden girl and sets out to take some risks. The first, involves cigarettes, cheap wine, and some questionable dance moves. When the Deputy Sheriff arrives, her mood drastically declines. Lucky for her, J.D. Hardy was checking up on a call when he noticed that one of her cigarette butts burned straight through her rug. These two do not get off on the right foot. Elizabeth never corrects Officer Hardy about his assumptions that she's a party girl, which makes the banter between them really funny.
I really enjoyed Elizabeth as a character. Her family is dysfunctional and yet she's still relatively normal. The only person she really connected with was her grandma and her younger brother, Elliot. In fact, her reputation is ruined because she thinks she's protecting Elliot. Elizabeth does have a few quirks which make her realistic. She has some OCD issues which she tries to correct while learning that it's okay not to be perfect. In Truhart, you don't need to be someone different, you just have to be yourself.
"But since I arrived in Truhart, a little bit of hope was settling in. The man lying in the next room and the people of Truhart were becoming important to me. Maybe there was a place for me in this small town."
J.D. is struggling to let go of his past. He has strict rules and enforces them. When Elizabeth finds out J.D. isn't perfect and learns of his past reputation, he becomes more approachable and less straight-laced. Elizabeth and J.D. both see each other for who they are and accept each other's flaws with ease.
Skinny Dipping Season is a fun, relaxing read with entertaining characters, amusing situations, and a few valuable lessons thrown in. If you're a fan of small towns, this is a great read!
Book Info:

April 12th 2016 | Lyrical Shine | Truhart #2
One Summer Can Change Everything . . .
Elizabeth Lively dresses conservatively, straightens her curly hair into submission, and works hard to uphold her political family's reputation. Her therapist might call it "OCD," but she's just trying her best to live by the rules—until her carefully crafted world comes crashing down when she's fired, painfully jilted, and arrested for a crime she didn't commit. All she can think to do is flee to her grandmother's lakeside house in tiny Truhart, Michigan, a town that's as quirky as it is quaint . . .
No stranger to second chances, Acting Sheriff JD Hardy isn't pleased to have Elizabeth in Truhart for the summer. A former city cop with a painful past, JD now runs a tight ship, and isn't keen on a newcomer with a criminal past, even one as tempting as Elizabeth.
Between lazy summer days and lakeside evenings, reconnecting with old friends and making new ones, Elizabeth must decide what the future holds for her, and where her heart belongs. She will learn that sometimes you have to dip a toe in cautiously, and other times you just have to dive in . . .