Sleeping with the Enemy by Tracy Solheim: The last person Bridgett wants to see again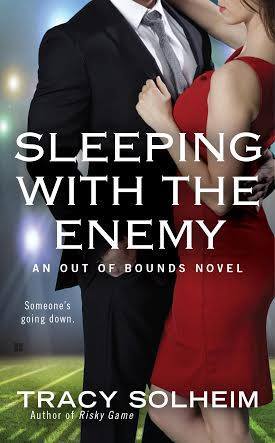 is the man who broke her heart so many years ago, but circumstances have forced her to act as Jay's lawyer. Jay is initially none too thrilled when Bridgett's name comes up as being the best lawyer to defend the team against the cheerleaders' lawsuit, but he quickly changes his mind. Both immediately realize that the attraction is still there, even if they could never trust each other.
"I don't understand," she admitted.
"Don't you? The other day. In my conference room. It was eye-opening."
"Eye-opening? What's that supposed to mean?"
A roar went up from the crowd as Jay looked over his shoulder before turning back to her. "You still want me."
Jay decides that maybe they should give in to the crazy chemistry and have a relationship without the messy emotional part, while Bridgett has no interest in such a relationship. She tries to fight herself as much as she fights Jay. She's determined to keep everything professional since she was effectively forced to take Jay as a client. Jay isn't a man used to hearing the word "no," so he is more than willing to use the lawsuit to keep her close.
Jay tugged at her ear with his teeth. "We're not done Bridgett. Not even close. I'm beginning to think we never were. Go. Take care of your family while I go take care of mine. But this is going to happen. Count on it."
His persistence finally pays off, but there's a big difference between getting Bridgett into his bed versus keeping her there. While the lawsuit is a major part of the story, both have some family drama to deal with. Through the interactions with their siblings, the full story of why and how they broke up years ago finally comes to light. The current lawsuit forces them to interact and re-evaluate their past, present, and future.
Sleeping with the Enemy is a second chance romance where the past has come back with a vengeance. Tracy Solheim weaves the past and the present together to highlight the relationship conflict between Jay and Bridgett. Ms. Solheim also provides an interesting cast of supporting characters. Fans of Chanel Cleeton will enjoy Sleeping with the Enemy.
Book Info:

Publication: September 1st 2015 | Berkley | Out of Bounds #4
The author of Risky Game returns with a football team owner who's a real player, and the woman who's ready to call him out on everything…
Dot-com millionaire Jay McManus is discovering that owning a pro football team like the Baltimore Blaze isn't easy. An anonymous blogger is out to destroy his reputation, and now his team is being sued by its own cheerleaders. If Jay's not careful, he could lose big—and not just financially.
Bridgett Janik's brother may play for the Baltimore Blaze, but she's not thrilled to be defending Jay McManus, the man who broke her heart. It's bad enough she has to mingle with Jay during games, but working beside her former lover may be too much for her body—and her heart—to resist.
Jay's determined not to let Bridgett slip away from him a second time. But, as the two follow the mysterious blogger's trail, secrets—both past and present—are revealed, and Jay and Bridgett must decide if their relationship can be something more than just sleeping with the enemy.