In Sleigh Ride for the Single Dad (Christmas in Manhattan #1) by Alison Roberts, years ago Charles Davenport and Grace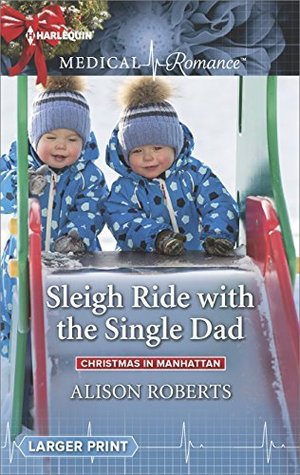 Forbes knew each other, but ended up going their separate ways after Charles broke her heart. But now, Grace is back in New York, and working alongside Charles at Manhattan Mercy Hospital. Will the spark that still blazes between them lead to a second shot at happy ever after, or will their past demons keep them apart?
There's something different about you today." Helena looked up as she finished scribbling a note in a patient file on the main desk in the ER. "You look…happy."
Grace's huff was indignant. "Are you trying to tell me I usually look miserable?"
"No…" Helena was smiling but she still had a puzzled frown. "You never look miserable. You just don't look…I don't know…this happy. Not at this time of the morning, anyway."
Once I started reading this book, I knew this story was going to be the start of a series I was absolutely going to love, as the Davenports are a high society family that the New York papers are constantly reporting about and they are a family determined to protect their privacy, especially after the scandal that rocked the family. So, right from the beginning, this book was very engaging, fast-paced and drew me in immediately, because Grace faces a tough first day at the hospital in facing Charles for the first time in years and meeting his twin boys. Will Grace be able to handle working with Charles again?
As for the dialogue, it was intense and a tad emotional due to the medical emergencies this couple need to handle as doctors and due to main characters back stories, as Charles lost his wife on a special day that left him devastated and unwilling to give love another chance for fear of going through such pain again and Grace had it tough with her ex who abandoned her due to unfair circumstances that have left her unable to have a baby. Moreover, I enjoyed the growing relationship between Charles and Grace and the growing bond between the heroine and Charles's twin sons. They all need each other to move on from the past, especially with the way things are with Charles's family that makes him determined to continue to protect everyone from more hurt. Will that mean sacrificing his second chance at love?
=He's determined," Grace said, watching him pedal after his brother. "Like his daddy."
"Oh? You think I'm determined?"
"Absolutely. You don't give up easily, even if you have a challenge that would defeat a lot of people."
Both the main characters entertained me from start to finish with their back stories, the medical emergencies they face and their growing relationship. Grace is resilient, courageous and I liked how determined she was to succeed in everything she does. I also liked how kind and caring she is and how great she is with Charles's twin sons. While the hero, he's been through so much in losing his wife and what happened to his family, and I liked how hard he tried to be the strong one that helped his siblings deal with the scandal. I also liked how good of a father he was and that he would do anything for his sons, which is proven by every moment they ask him for something, especially when it comes to Grace.
Overall, Ms. Roberts has delivered a wonderful read in this book where the chemistry between this couple was intense, and the romance heart-warming and illustrates just how much Grace and Charles need each other to heal from their pasts. Can Charles move on with a new woman without feeling like he's cheating on his late wife? Furthermore, the ending had me loving the hero more than I already did, because he would do anything to win the heroine's heart, even if it meant granting her wish when it comes to Christmas and venturing around New York. However, it was the epilogue that wrapped this story up nicely, because of the love between Grace and Charles and how much the hero's twin sons love Grace. I would recommend Sleigh Ride with the Single Dad by Alison Roberts, if you enjoy second chance romances or books by authors Janice Lynn, Amy Ruttan, Robin Gianna and Susan Carlisle.
Book Info:

Publication: October 1st, 2017 | Harlequin Medical | Christmas in Manhattan #1
Her secret Christmas wish
Dr. Grace Forbes's dramatic first day in Manhattan Mercy ER is unforgettable—especially when she runs into her old flame, ER chief Charles Davenport, again!
That spark is still there between them but they're different people now—after losing his wife, Charles is a single dad to adorable twin boys, while Grace has survived cancer but lost her dream of having children. Yet, as the weather gets colder, she is drawn into the warmth of his family—could he make her Christmas wish come true?