In Slightly South of Simple (Peachtree Bluff #1) by Kristy Woodson Harvey, Georgia might have been on Ray Charles's mind but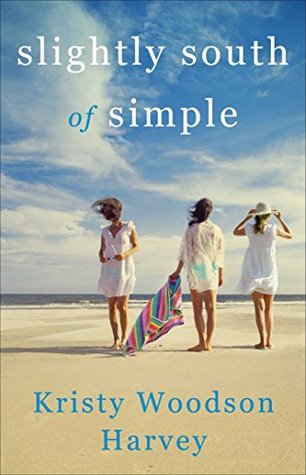 it most certainly was never on Caroline Murphy's. Or in her plans. She's a New Yorker through and through, after all. But since suffering public humiliation in the form of her husband cheating on her with an up and coming model–while Caroline is several months pregnant, no less–she decides that going to stay with her mother in Peachtree Bluff is the answer. So she drags her pregnant self and her nine-year-old daughter to a beachside town in Georgia with no Starbucks and no Uber. But Caroline soon realizes that getting out of the chaos and reconnecting with her mother and two sisters might help her figure out the mess that has become her life.
"So what have I missed?" Sloane asked. "You know how much I hate it when y'all are here together without me."
I cringed. They had her now. It was official. Once you go "y'all," you never go back.
Ansley cherished the years she spent with her three daughters: Caroline, Sloane, and Emerson. Even after the tragic death of her husband Carter, her girls were her salvation. She knows moving them from their native New York City to Georgia was a tough transition at the time but it was necessary. And now, years later, Ansley still feels like Peachtree is her true home. It turns out to be a good thing to have a calm, supportive town to rally around her when each of her daughters, for one reason or another, come home for a bit. Amidst the confusion and the changes it brings to their lives, Ansley can't help but appreciate this special unexpected time with her kids and grandkids. But when an important person from her past shows up in Peachtree out of the blue, things get even more complicated and family secrets are no longer safe.
'Change is the only thing I've ever been able to count on in this life, the only thing that hasn't let me down. And I am quite proud to say that although I may not always have done the right thing, I have survived it all.'
What a maelstrom of emotions Kristy Woodson Harvey cooked up for us in Slightly South of Simple. New York attitude and Southern charm collided when empty-nester Ansley's three grown daughters descended upon her in what turned out to be one of the most complicated but rewarding times of her life.
'Walking down the street with my two sisters, I felt like life was going to go on–yet again. It might have been slightly south of simple. But like we always did, we'd figure it out together.'
I love heartfelt stories that center around families, showing their ups and downs in a realistic manner, and the different personalities that make things so complex. Kristy Woodson Harvey did a fantastic job of giving life to those dynamics. And each character she created was so real to me. This book may have focused mainly on Caroline, the oldest daughter, and her mother Ansley, but we got a good sense of Caroline's sisters Sloane and Emerson's personalities and situations here as well. The combination of these four women together was enough to make me laugh and sigh, but ultimately kept a smile on my face for most of the story. I do need to mention that this is not a typical HEA or HFN ending as things are left a bit up in the air. It wasn't a cliffhanger, though. But there are still issues to be resolved when the next book comes out.
Caroline, I think, will be the character that will give readers the most grief. She was completely and unapologetically a New Yorker. She was bold, outspoken, a bit spoiled and self-absorbed. But when Caroline cared about someone, she was also their biggest ally. She really made me giggle with how unafraid she was to stand up for/to her sisters and her mom. I loved her sassiness. But my heart went out to Caroline in having to deal with such a public betrayal from her husband. I completely understood how difficult it would be to figure out what was best for her family–and for her.
Ansley was a really cool woman. I adored her and how she cherished her daughters, her grandkids, and her charming little oceanside town of Peachtree. But boy did she have a problematic past when it came to the men in her life. I won't give away the details as to how Ansley's beloved husband Carter passed away, which was tragic and pulled my heartstrings something fierce. I'll let you find out as the book progresses what happened and how the man who suddenly reappears later in her life in Peachtree creates utter havoc, both in the best and worst ways. I think what really struck me with Ansley was that she knew she had to let her daughters make their own mistakes and learn from them, as hard as that was for her to watch. She didn't try to force her opinion on them. Instead she supported and loved them, even when they made it difficult to do so. (Ahem, Caroline)
Slightly South of Simple is how women's fiction should be written. Depth of emotion, engaging characters, intricate storyline, and a gorgeous backdrop in coastal Georgia. What more could a reader ask for?

Book Info:
Michele H| 5 Stars | HJ Top Pick | No |
Publication: Expected publication: April 25th 2017 | Gallery Books | Peachtree Bluff #1
From the next "major voice in Southern fiction" (New York Times bestselling author Elin Hilderbrand) comes the first in an all-new series chronicling the journeys of three sisters and their mother—and a secret from their past that has the potential to tear them apart and reshape their very definition of what it means to be a family.
Caroline Murphy swore she'd never set foot back in the small Southern town of Peachtree Bluff; she was a New York girl born and bred and the worst day of her life was when, in the wake of her father's death, her mother selfishly forced her to move—during her senior year of high school, no less—back to that hick-infested rat trap where she'd spent her childhood summers. But now that her marriage to a New York high society heir has fallen apart in a very public, very embarrassing fashion, a pregnant Caroline decides to escape the gossipmongers with her nine-year-old daughter and head home to her mother, Ansley.
Ansley has always put her three daughters first, especially when she found out that her late husband, despite what he had always promised, left her with next to nothing. Now the proud owner of a charming waterfront design business and finally standing on her own two feet, Ansley welcomes Caroline and her brood back with open arms. But when her second daughter Sloane, whose military husband is overseas, and youngest daughter and successful actress Emerson join the fray, Ansley begins to feel like the piece of herself she had finally found might be slipping from her grasp. Even more discomfiting, when someone from her past reappears in Ansley's life, the secret she's harbored from her daughters their entire lives might finally be forced into the open.
Exploring the powerful bonds between sisters and mothers and daughters, this engaging novel is filled with Southern charm, emotional drama, and plenty of heart.