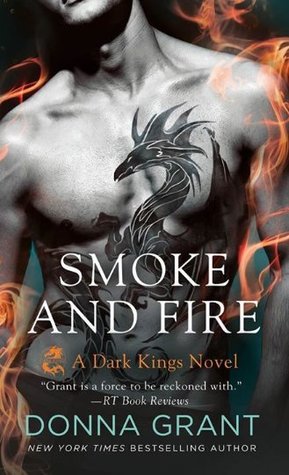 Although I have read the other books in this series, Smoke and Fire (Dark Kings #9) by Donna Grant can be read as a stand alone book, as can the others in the series. The stories weave together well and each book is action packed. I will warn you that this book as with the others has a sort of cliff hanger, open ended, ending that will allow you to transition into the next book. This is the story of Ryder and Kinsey.
Ryder and Kinsey connected three years ago and started a relationship that was moving toward a commitment, When Ryder left with nothing but a note for Kinsey, she is confused and left to wonder what happened.
When an assignment throws Ryder and Kinsey back together and Kinsey finds out Ryders true nature, that he is a dragon shifter, it will confuse and frighten her. But they need to find a way to work together to find out who is pulling the strings that pushed her back into Ryder's life.
As with the other books in this series, we get to see the characters from the previous books as well as their mates. You can tell that things are building towards a reveal of who is behind a lot of the goings on in this series. I enjoyed getting to see what the Reapers were up to as well. (They are featured in a spin-off series). What I love about Donna Grant and any of her series are that they are inter-connected without forcing the reader to have read every single book. If you enjoy a great shifter book that I would highly recommend this series.
Book Info:

 April 5th 2016 | St. Martin's Paperbacks | Dark Kings #9
She wanted to touch him. There had always been something about being in his arms that made her feel as if she could tackle anything and the world wouldn't dare get in her way…
SWORN TO PROTECT
A dragon shapeshifter and a computer mastermind, Ryder is sent to guard Glasgow after a devastating Dark attack. But when memories of an explosive affair come back to him-in the flesh-Ryder cannot help but want to protect the woman who haunts his dreams. Even if means shifting into the dragon he was never supposed to reveal…
DRIVEN TO DESIRE
Kinsey could never get enough of Ryder. His every touch only left her wanting more. But now that she's seen him in his true form, Kinsey's world is rocked to the core. She knows that to stay-and feel-alive, she must be with Ryder. But is Kinsey's passion worth the risk of danger that comes with being a part of Ryder's dark and fierce world?