In Snow Falling on Bluegrass (Bluegrass #3) by Molly Harper, Who knew the Snowpocalypse would befall the employees of the Kentucky Commission on Tourism when they went away for their winter retreat? Executive assistant Kelsey and her boss Sadie have been planning the team building getaway for months, never expecting to be stranded at a lodge under layers of ice, inches of snow, and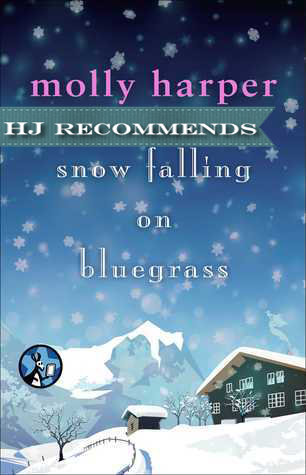 with no power or a way to get to the main road. The upside? Kelsey now has a chance to get up-close-and-personal with the guy she's had her eye on for a few years, KCT statistician Charlie
'Everything was going to be okay. Sure, we were without power, in the middle of nowhere, in unfamiliar surroundings, with the storm of the century closing in on us…What was my point again?'
Little did Kelsey know that she would also meet sexy Ranger Luke who is the only lodge employee on hand to help them. Confused and a bit gobsmacked that two handsome guys are vying for her attention, Kelsey tries to make sense out of her emotions all the while keeping the KCT employees from panicking or turning on each other. When one weekend ends up becoming almost two weeks imprisoned with no power, can Kelsey and her fellow co-workers keep their sanity? Well, what little they had to begin with…
'Frankly, I was a little irritated with Luke for interrupting the kiss. Sexual tension years in the making almost fulfilled, and then undone by a pissed-off marsupial and Dudley Do-Right.'
I love, love, LOVED Snow Falling on Bluegrass! Loved. It. Between the zany characters who are way out of their comfort zone in the harsh winter elements, a love triangle, and Molly Harper's trademark snark, (and a possum scene!) I was a very happy girl reading this story.
'Charlie had gone out of his way to engineer an oven for my favorite cheap frozen pizza. It may have been the most considerate, romantic gesture a guy had made for me in a while. That was possibly the saddest statement ever.'
I have really fallen hard for the unique employees of the Kentucky Commission on Tourism in Ms. Harper's two previous books in the Bluegrass series. And I kind of couldn't wait to learn more about super organized Kelsey. She had such a great way of keeping everyone on task and helping her boss and BFF Sadie stay sane. But her relationship with deadbeat Darryl always made me wonder why she let herself be treated so poorly. The mystery was solved with this story. I won't give every detail away, but let's just say that her childhood and her relationship with her parents had a hand in it. I think you'll be as outraged and shocked on her behalf as I was when you read some of the antics she dealt with.
But, Kelsey totally redeems herself after being used and put down by Darryl, by finding her backbone when it comes to her personal life and snagging the attention of both super cuties Charlie and Luke. I loved Charlie's awkwardness around Kelsey. I mean, it was pretty obvious they had feelings for each other, but they didn't want to ruin their friendship. There was no way they could avoid it, stuck in the lodge together, and the hi-jinx that ensued were hilarious and quite steamy. The addition of Luke to the mix added a bit of fun and tension that gave Kelsey and Charlie the right push to confront their feelings. I thought it was pretty fitting that Luke came off as kind of a Dudley Do-Right character, being a Forest Ranger and all, and how forthright he was in admitting his attraction to Kelsey. Such a great character.
Molly Harper has outdone herself with this latest installment in the Bluegrass series. Whether you've read the two previous novels or not, I think you'll have a tremendously fun time reading Kelsey's story.
Book Info:

Publication: September 22nd 2014 by Pocket Star | (Bluegrass #3)
Parks & Recreation meets The Blue Collar Comedy Tour in this third ebook in Molly Harper's Bluegrass series of contemporary romances: A love triangle of colleagues heats up the winter lodge where they get snowed in for a week.
Kentucky Tourism Commission employee and executive assistant extraordinaire Kelsey is known around the office for having everything under control. So it's not surprising that she and her boss, Sadie, have everything planned to the second for the office winter retreat. But there are things even Kelsey can't micromanage.
An unprecedented snowstorm smothers half of Kentucky and knocks out the power, closes the roads, and generally shuts down the state. Luckily, the lodge has working fireplaces and enough food to keep the staff from turning on each other like something out of The Shining. Kelsey wouldn't mind being stuck inside if it wasn't for the tension with her not-so-secret crush, Charlie, the office's statistician. But handsome Ranger Luke, the lodge's only employee on hand, is there to take Kelsey's mind off her discomfort.
Even though this weekend is supposed to be a planning session for KTC, Kelsey can't help her mind from wandering and finds herself conflicted over Luke and Charlie. Someone's love will keep her warm, but whose will it be?